Tony Scott: Apple flogs old movies and profits from a man's suicide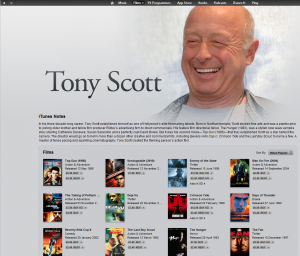 When film director Tony Scott committed suicide, Apple quickly put up a tribute to him on the iTunes store. Except the page is less of a tribute and more of a shop window. Underneath a picture of Scott, and a brief biography, are links to all of his movies available to rent or buy from Apple. It doesn't mention his death, at all, just lumps all of his films together into a collection that's prominently listed on the front Films screen.
When I first encountered the so-called tribute page, I was a little dismayed. When someone dies, the proper etiquette is to mourn them, and to reflect on their lives and on their achievements. It isn't, generally, to try and make a quick buck from their passing. But that's exactly what Apple has done here -- and it's not the first time.
Although Tony Scott was the creative force behind some major blockbusters, including Top Gun, Days of Thunder, Crimson Tide and Unstoppable, he wasn't a massive success like his brother Ridley. And so he would never be the subject of a collection, such as the one Apple put together, if still alive today. This move isn't about "Remembering Tony Scott" as iTunes dresses it up. Apple flogs old movies and profits from a man's suicide.
What kind of company does that?
A mega successful corporation that places the bottom line above all else including, it seems, compassion and basic human decency.
Now, I've forgiven Apple a lot over the years. I said I wouldn't boycott it over its patent war with Samsung, and while all those reports of suicides at Foxconn disturbed and saddened, I didn't feel they were actually Apple's fault. But this is just too callous a move, even for an Apple apologist such as myself.
Was the idea of doing this "tribute" raised in a company meeting? Did someone say "Hey, Tony Scott chucked himself off a bridge. We could use his death to make money!" Did everyone else nod and high-five at the brilliance of the opportunity? Did no one say "Hey, we're worth $623 billion, do we really need to sink this low?"
When a famous singer dies, fans often react to the news by purchasing that person's back catalogue. Michael Jackson and Whitney Houston's albums stormed the iTunes chart and dominated for quite some time after their deaths. It could be said that by creating "tribute collections" Apple is just helping consumers to find those products.
But is it really? People know how to browse, they know how to search, and they know how to buy products in charts. When you go to a memorial service you listen to people sharing their individual recollections of the deceased, and you share your own. You don't need someone selling you a book of "favorite memories" and indeed you'd be outraged if they tried.
To be fair, Apple isn't the only company happy to profit from loss. When Whitney Houston died, her record label Sony responded to the tragic news by doubling the price of her greatest hits album. It later apologized and said it was an "employee error". What's Apple's excuse?