Sub-shop apps turn Windows Store into a retail mall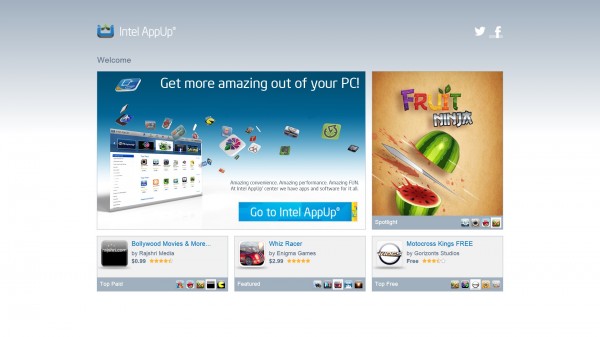 A store inside a store, that was my first impression of Intel's AppUp app that the company recently launched on Windows Store. It's one of two such sub-shop apps currently available on Windows 8, and they work outside and around the larger Windows Store concept. Is this what Microsoft really wants for users?
I get the whole Windows Store concept, really, and think it is great even though it could be improved here and there. The store has to offer a lot from a user perspective: apps are verified and tested, payments are handled in the store, and software updates are handled automatically. That's great as it takes away many of the issues that current Windows users are left alone with as they have to find, download, install and update software programs on their own. Failure to update programs on the system as soon as updates become available for instance can lead to all kinds of security and stability issues. Windows Store solves the problem.
So it's surprising to see sub-stores that bypass these benefits. Intel's AppUp application for Windows 8 mimics the company's desktop program offering and website of the same name. It is basically a software catalog of sorts that you can browse through to find programs you are interested in. The store highlights paid and free applications, which all lead to the Intel website from where they can be downloaded to the local computer.
These programs are like desktop programs that you find listed in the Windows Store as well, only that instead of a few dozen that have made their appearance in store, you now have more than a thousand to browse through.
Desktop programs in Windows Store do not use the store's ecosystem at all. You do not pay for them in the store, nor download them from the store -- and they also do not get updated automatically.
When you look closely, you will find dupes, or identical programs offered in Intel's AppUp store and Windows Store. Both stores for instance feature Fruit Ninja prominently, with Windows Store's version currently for free, while the Intel version goes for $4.99.
Intel is not the only company that has added a sub-store or software catalog to Windows Store recently. Softonic, a popular download portal, pushed out its own app to the store. And just like Intel's app, it is mainly a frontend for programs offered on the Softonic website.
The app features top-rated and downloaded programs prominently, as well as app categories that users of the app can browse right there. Individual programs sometimes include reviews and user comments, and always a link to the Softonic website where the programs can be purchased and downloaded. This again moves payments, downloads and updates out of the Windows Store ecosystem.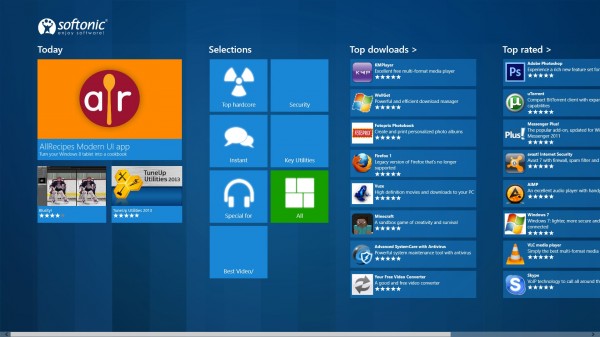 The Softonic app features reviews of Windows Store apps. While that may sound great at first, as it may give you an independent review of apps found in the store, you will soon find out that you can't download and install the apps directly. The reviews only link to the Softonic store, which offers the same contents plus advertisement. The store redirects to the apps' page on the Windows Store website, and it is here that you find a link that you can click on to open the app in Windows Store.
The two apps make available contents in Windows Store that are already available on the web. This does not necessarily have to be a bad thing, as they may highlight these store fronts to users who otherwise never come into contact with them.  That's, however, all there is to it right now, as they work independently of the Windows Store ecosystem.
It is likely that we will see other store in-store apps appear in the next couple of months in Windows Store as other software portals and sites may seize the opportunity to drive traffic to their sites from the store.
What's your take on these software catalog apps?