LinkedIn identifies the top-10 endangered office tools and trends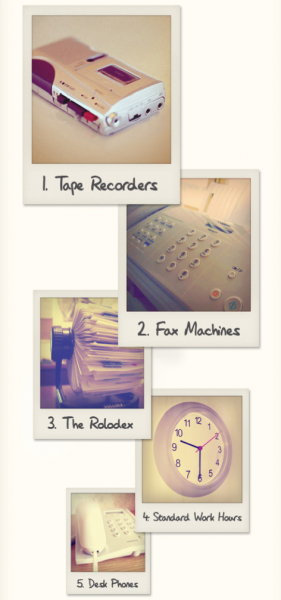 The office workplace is continually evolving. New technologies and trends -- like cloud computing and BYOD schemes -- are becoming more and more popular, but not every firm is willing to embrace the future, and many are stuck firmly in the past.
LinkedIn, the world's largest social network for professionals, surveyed more than 7,000 members across the globe and asked them which of the current office tools and trends they expect to be extinct in five years' time, combining the answers to produce the following top 10:
Tape recorders (79 percent)
Fax machines (71 percent)
The Rolodex (58 percent)
Standard working hours (57 percent)
Desk phones (35 percent)
Desktop computers (34 percent)
Formal business attire like suits, ties, pantyhose, etc. (27 percent)
The corner office for managers/executives (21 percent)
Cubicles (19 percent)
USB thumb drives (17 percent)
While some of the responses, like tape recorders and fax machines, are on fairly safe ground, there are some rather more wishful answers in the list. It would be nice to think by 2017 all businesses will have outlawed cubicles and neck nooses, but somehow I'm not convinced.
The survey also looked at up-and-coming trends that professionals expect to become much more popular in the future. The list included tablets (55 percent), cloud storage (54 percent) and flexible working hours and smartphones (tied at 52 percent). More fanciful responses included having a clone or assistant (25 percent), office areas lit by natural sunlight (25 percent), somewhere to take a nap (22 percent) and a mute button for silencing co-workers (19 percent).
There's a nice infographic summing it all up here.
What trends and tools would you like to see phased out over the next five years? And similarly, what new business practices do you think should be adopted in their place? Leave your comments below.