Samsung brand perception rises, as Apple falls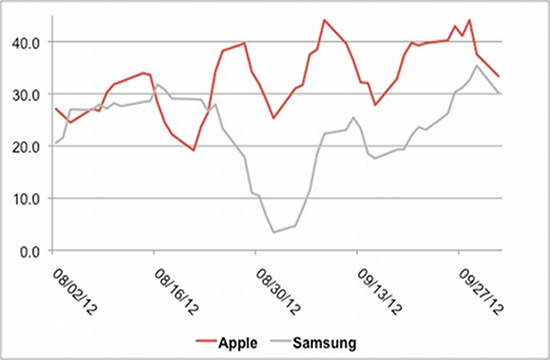 They say the apple doesn't fall far from the tree. But it does.
Samsung's brand has recovered from a disastrous low, demonstrating the benefits of aggressive, compelling marketing and the pitfalls of a competitor's public product problems. Make no mistake: Samsung's snarky attack ads, which make fun of iPhone idolators, are as effective today as they were when first aired in November 2011. The perception change, which puts Apple's brand lower, also shows the damage done by iOS 6 Maps and dissatisfaction with the company's response.
"What patent infringement lawsuit?" asks Ted Marzilli, YouGov BrandIndex managing director, referring to the Apple-Samsung case that brought positive brand awareness to the American company and negative perceptions to its South Korean rival.
Marzilli explains: "To put Samsung's bounce back in perspective: on August 15th, the company had a buzz score of 32. After the lawsuit verdict was announced on August 24th, the score was down to three a week later. Since then, Samsung went right back up to a 26 score on September 11th, shortly before the Apple press conference announcing the iPhone 5".
The day before Apple CEO Tim cook issued his apology for the Mapocalypse, Samsung positive brand perceptions reached a five-year high, recovering from the terrible low.
Apple hasn't done as well. "Public apology for the Maps app has not halted the company's consumer perception slide", Marzilli says. As of October 2nd, "Apple is at 33 after slipping from its 44 score" the day before the apology.
Apple's fall in part could be inferred to reflect public dissatisfaction with the apology.
YouGov BrandIndex ranks companies on a scale of -100 to 100, with zero meaning equal positive-negative brand perception. So Samsung still had slight positive buzz when at three following the jury verdict in Apple's favor.
Samsung already had recovered positive brand buzz before airing the revived "The Next Big Thing is Already Here" marketing campaign, which since gave lift. The South Korean electronics giant started the ad campaign nine months ago, following release of iPhone 4S. I've seen new commercials air, since their September 19 debut, across networks during primetime in shows like ABC's "Revenge" or FOX reality show "X Factor".
The commercials make fun of people waiting in line to buy iPhone 5, and it's no accident lines are considerably shorter in this year's batch than the original series. Samsung also effectively sidelines iPhone 5 as a catch-up device that matches some Galaxy S III features, while lacking others.
The adverts are aspirational in the best ways, showing how the phone can empower you. Both series share a similar quality: Emphasis on the individual, over the crowd, which is startling considering how group oriented is the Millennial generation -- where sometimes it seems standing out is a crime. Meanwhile, Samsung endears phone users to become part of a different group -- one that is knowledgeable and connected, such as tapping together Galaxy phones to share playlists.
The Apple Maps furor will subside, like Samsung's court case loss, but the marketing will remain.