Here's your 20" Windows 8 tablet: Sony Vaio Tap 20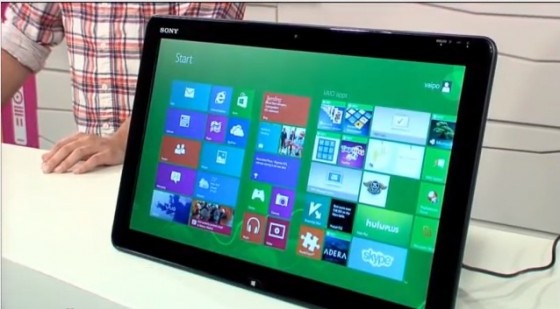 A couple of months ago, BetaNews contributor Mihaita Bamburic complained that he couldn't do his engineering work on any tablet, and what he really needed was a tablet with at least a 15-inch touchscreen. Sony appears to have met my colleague's demands with five inches to spare in a new tablet-ish PC of massive size. Sony calls it the Vaio Tap 20 PC...the first "mobile tabletop PC."
Imagine if you took a desktop all-in-one PC and slapped a battery inside its chassis. That's essentially the Vaio Tap 20. It has a 20-inch screen (1600x900) with 10-point multi-touch recognition and it has a built-in stand which allows it to be propped up and used as a traditional all-in-one PC when not being used as a pseudo-laptop-tablet thingy.
Hardware-wise, it can be configured with an Intel Core i7-3517U, Core i5-3317U, or Core i3-3217U Processor and from 4GB to 8GB of DDR3L (1600MHz) SDRAM. Storage can be configured with either a 750GB or 1TB 5400rpm HDD. Graphics is done by the integrated Intel HD Graphics 4000 processor. Communications include 802.11 a/b/g/n; Bluetooth 4.0 + HS; 1000/100/10 Ethernet, two USB 3.0 ports, Memory Stick Duo/SD memory card slot; and most interestingly of all (at least for a desktop all-in-one) Near Field Communications support. It's also got the requisite 720p webcam for chatting with the family and/or boardroom full of disgruntled executives.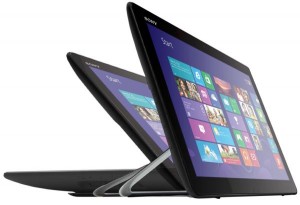 The whole thing weighs 11.46 pounds, so it's no handheld tablet by any stretch of the imagination. For an AIO PC, it's definitely on the lighter end of the spectrum. For example, Asus' EeeTop all-in-one weighs 15 lbs, and Dell and HP all-in-ones range from 14-21 lbs.
The Vaio Tap 20 starts at $879.99 and comes in either black or white chassis design.