I need a 15-inch tablet to replace my laptop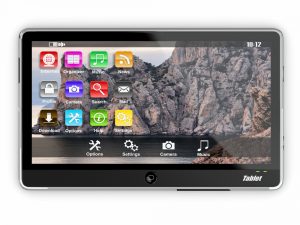 Some people don't like tablets, while others defend them. I've often wondered why people seem so crazy about them, but that is mostly because what I do requires me to run Windows, and Windows-based tablets (aka slates in the Microsoft Store) are neither popular nor cheap, especially with the hardware configuration that I need.
I say need, not want, because it is mission-critical that I finish the task at hand in a decent amount of time, and to do that requires powerful hardware. But there's another reason as well, and it involves the size of the display. In one of my previous articles, I wrote that real work can't be done on a tablet and I gave five reasons as to why it's (still) true. Today, I'd like to add the sixth reason to that list: Most tablet displays are too small.
I often run CAD programs and structural analysis software, and such applications require a decent resolution (I currently have a 17-inch laptop with a 1680x1050 display resolution) and at the same time an adequately sized display. A 10-inch display even with a 1080p resolution wouldn't help as there are too many details when using CAD programs that would require a magnifier to see them on the small screen without zooming in too much and then losing the bigger picture (or drawing if you will). The resolution is fine but the display isn't, so what's the solution?
Would a, let's say, 15-inch tablet be the right idea? I am not suggesting in any way that some people, even some of you, do need such a big tablet. But there is a market for people like me that feel like a 10-inch display isn't enough to satisfy all their needs. Tablet manufacturers today focus on tablets with a roughly 10-inch display or smaller, 7-inch like the Google Nexus 7 or RIM 4G LTE BlackBerry Playbook. For me, they are just too small and I am fully aware that they are not supposed to replace a laptop in size, but what if they would?
I look at the new iPad as the tablet with some of the best hardware specifications around right now. But sadly it runs iOS and that doesn't help me at all, but it's got an interesting hardware trick up its sleeve. What I like the most about the new iPad is the display: it's a 9.7-inch screen with a 2048x1536 resolution, resulting in 264 ppi (pixels per inch), making it one of the tablets with the highest ppi density, if not the highest. However, as much as I like the high pixel density and the resolution I can't shake the feeling (again) that I can't work with it, because it's too small.
What I'm hinting at is a 15-inch tablet with at least a 1080p resolution, preferably a 16:10 display with a 2560x1600 resolution. Taller displays are better for productivity, just think of working with Excel and tall columns. Microsoft Surface with Windows 8 Pro gets it right with the operating system and as far as specs go, I would like a tablet with a quad-core CPU (Intel Core i5 would be preferable), 8GB of RAM, 256GB SSD drive and a decent video card. It would suffice in terms of processing power. Wi-Fi is a given obviously, but the tablet should also have a detachable wireless keyboard and at least two USB ports to aid connectivity.
I could see myself replacing my trusty old laptop with a tablet like this one, even if it's a bit pricier. It would be easier to carry, so needs to be compact and lighter as well; this is very important to me whenever I need to move around, and I must have a device to work on. It's a pain to carry at least 5KG (laptop + power brick + accessories + backpack) on my back for long distances as much as it is to carry it on my shoulder as well. Even at 2KG a 15-inch tablet would be ideal for me and it would allow me to easily carry it around wherever I need it.
I enjoy playing on a tablet for light tasks like reading/sending emails, browsing the web and so on and would be able to do all those things just as well as any other tablet. Unlike smaller ones, the 15-incher would give me a better movie experience for instance as much as it would allow me to play games in proper conditions and yes, I'm talking about Windows games here.
Like I said earlier, I could easily run programs that are essential to me like AutoCAD, which is easy to work with on bigger displays. At the same time the buildings or structural elements that I design could easily be manipulated in structural analysis software, which is critical for someone working in the civil engineering field. Another benefit is the ability to view two full size pages in Word, which is helpful when going through my documentation; running a browser and Word side-by-side would be a perfect fit as well.
Different problems come with different solutions and a 15-inch tablet similar to the one I mentioned would be the answer to all the issues that I now have with tablets, be it at a higher price than what tablets sell for these days. Is a 15-incher for everyone? No, but does it have to be?
Photo Credit: Maxx-Studio/Shutterstock