Microsoft Surface RT doesn't compete with iPad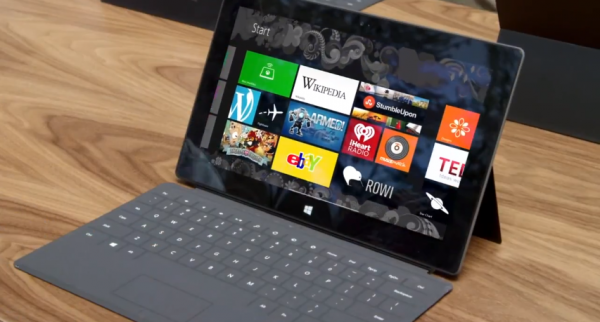 Microsoft revealed pricing for its long awaited Surface RT yesterday. Starting at $499 with 32GB of storage and going up to $699 for the 64GB model with Touch cover included, the devices are priced in about the same price range as Apple's new iPad. It feels natural to compare Microsoft's entry into the tablet market with the leading product that is already there, and many have done so. Joe Wilcox, for instance, believes that Microsoft prices Surface RT to go head to head against Apple.
There is certainly some truth to that, but it may be a different truth than what seems obvious.
Surface RT beats Apple's iPad hardware-wise in most areas, the tablet either is $100 cheaper iPad if you get the version without keyboard cover, or priced the same but with the accessory included. On the plus side, Microsoft's slate offers USB 2.0 port, memory expansion slot and several additional connectors that the iPad does not ship with. On the other hand, Apple's tablet offers better screen resolution and, for a price, cellular connectivity.
Other than price, are there indicators that Microsoft is trying to compete with Apple's iPad in the tablet market? To answer that, we need to look at the Surface's target audience.
It is unlikely that many existing iPad owners will switch to the Surface RT. Some will, but many will likely prefer to stay in their ecosystem. Being closed, iPad owners would lose access to free and paid apps and games they have installed on their tablet when switching to the Windows platform. That leaves people who do not own a tablet yet as Microsoft's primary market.
These people have several options when it comes to their next mobile computer. From laptops running Windows or Mac OS X to tablet devices such as the iPad or Android-powered devices.
When you compare the pricing of the Surface to laptops, you will notice that the device is attractively priced. Sure, there are laptops that you can purchase for less than $599, but they are often less powerful and always heavier than the Surface RT, even if you add the 209 grams for the touch pad keyboard to the equation.
For some, Surface RT will be the logical choice. While you won't be able to run desktop software on the tablet, you do get a version of Microsoft Office for free. Surface RT is certainly an attractive option if you primarily work with Office and Internet applications, especially if you need to carry the device around with you all day. Instead of having to lug a laptop in the kilogram range, you get one that weights less than a kilogram with the keyboard included.
Reliance on wireless networking, on the other hand, is a factor that may hold the Surface back, considering that you may not have access to Wi-Fi while on the road. It is possible to resolve that, by buying extra hardware that adds cellular capabilities to Surface RT. You'd have to carry that around with you and it will block the USB port.
Surface RT can't replace a laptop if you need to run legacy software. That, however, is not he purpose the device is designed for, and the main reason Surface Pro exists. With better hardware, a resolution of 1920 x 1080, USB 3.0, more RAM, a faster processor, and Windows 8 Pro, Microsoft's other tablet is designed as an alternative to ultrabooks and medium to high-end laptops.
If you plan to purchase a Surface RT from Microsoft, you may have to wait a while before you get the device as the basic version without keyboard sold out already in the US Microsoft Store.