Microsoft reveals Surface tablet pricing, starting at $499, then pulls pre-order page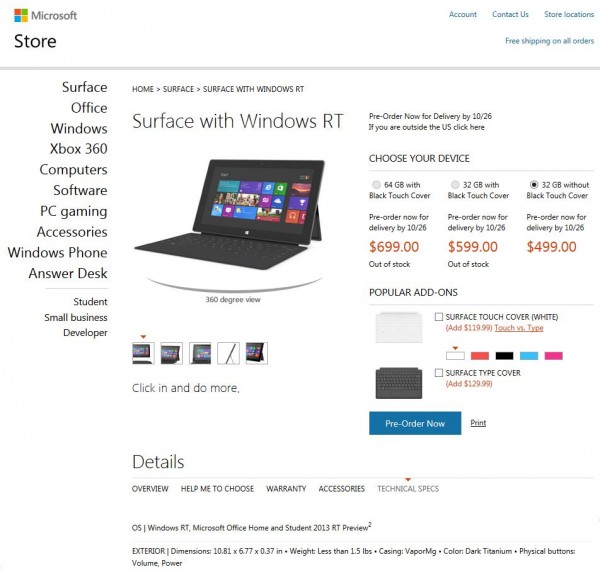 Almost a month ago I wrote "Steve Ballmer hints at Microsoft Surface costing $300-$800" and he was (obviously) right on the money as the Redmond, Wash.-based corporation introduced Microsoft Surface with Windows RT for pre-order today with delivery on October 26. No, it doesn't start at $199, nor at $300 either, but it's close. HOWEVER, while I wrote this post, the pricing page disappeared from the Microsoft Store and now redirects to its home page.
The base 32GB model without the Black Touch Cover, which is Microsoft's name for the OEM keyboard, comes in at $499 and at the time of writing this post is the only model available for pre-order (whenever it resumes). The keyboard can be purchased separately for an additional $119.99 or $129.99 for the white or black model, respectively. The 32GB model with the Black Touch Cover included runs $599, while the larger 64GB Surface with the same add-on will set you back $699. Again, like Steve Ballmer hinted, price range is $300-$800, though it comes closer to the upper end.
Easily noticeable is the fact that when purchased separately the keyboard is more expensive than when it is acquired together with Surface, although as previously mentioned there is only one model available at the moment.
Microsoft's Windows RT tablet comes with a 10.6-inch, 5-point multitouch, ClearType HD Display with a 1366 by 768 resolution and 16:9 aspect ratio and is powered by the nVidia T30 chipset; that, according to Anandtech, equals to a 1.4GHz quad-core processor; 2GB RAM, Wi-Fi 802.11 a/b/g/n; Bluetooth 4.0; 720p video cameras front and back; full-size USB 2.0 port; microSDXC card reader; ambient light sensor; accelerometer; gyroscrope; magnetometer. The tablet weighs less than 1.5lbs, and comes in at 10.81 x 6.77 x 0.37 inches.
The Black Touch Cover weighs 0.46lbs, and measures 7.4 x 11.0 inches and is 3mm thick. Other color options include white, cyan, magenta and red and will be sold separately. Docking is insured by a magnetic interface, and comes with an accelerometer and pressure-sensing input.
On the software end the tablet comes with Windows RT and Office Home and Student 2013 RT Preview, and due to the ARM nature of the processor it can only work with apps from the Windows Store.
At the time of writing this article, according to our own BetaNews poll, 7.34 percent of the respondents would purchase the entry-level 32GB Surface RT model for $499, with just 2.74 percent and 2.83 percent of the respondents willing to pay $599 and $699, respectively.
Where do you stand on the pricing?