Microsoft prices Surface RT against iPad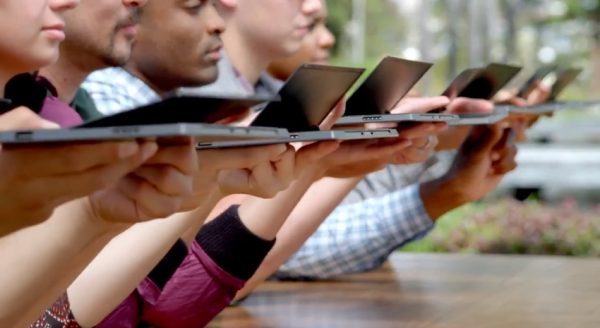 Well, file this in the don't believe anything you read on the Internet department. Contrary to relentless rumors that Microsoft Surface would start at $199, actual cost will be $300 more. Rather than price against tablets selling for $299 or less, Surface competes with iPad, while offering more storage for less cost. But iPad has the way upper hand on screen resolution, which is a compelling feature.
At Noon EDT today, Microsoft started taking pre-orders for Surface, following a gaffe that temporarily offered the tablet and revealed pricing -- $499 to $699 for three models. The entry-level 32GB tablet is $499, same as new iPad, which is 16GB. The $599 Surface adds detachable keyboard cover, and the $699 model bumps storage to 64GB. Pre-orders are for the model running Windows RT. Microsoft hasn't announced pricing or started pre-orders for the Windows 8 tablet. As previously reported, Surface RT launches alongside Windows 8 on October 26. Yesterday, Microsoft kicked off the tablet's ad blitz.
Four months ago, I asserted that "Surface is all about Apple", and final pricing bears that out. At a time when Android tablet prices creep down -- ASUS Pads, Google Nexus 7 and Samsung Galaxy tablets are all examples -- Surface stays closer to iPad. From a purely screen-resolution perspective, iPad 2 costs less, just $399 (but, again, only with 16GB storage). Like comparably-priced Surface, the $599 new iPad also has 32GB storage and the $699 model 64GB, but no free, detachable keyboard. But Apple's tablet offers considerably higher screen resolution for the price -- 2048 by 1536, compared to 1366 by 768 for Surface. Additionally, Apple offers iPads with LTE. Surface is Wi-Fi only, but does run Windows and comes with Office Home and Student for free.
Models Compared
So how does Surface stack up to the competition, and not just iPad?
Surface RT: 10.6-inch ClearType HD Display with 1366 by 768 resolution; Nvidia T30 processor; 2GB RAM; 32GB or 64GB storage; 720p front- and rear-facing cameras (meaning they're for video more than photos); accelerometer; ambient light sensor; barometer; magnetometer; Wi-Fi A/N; Bluetooth 4; Windows RT. Dimensions and weight: 10.81 x 6.77 x 0.37 inches and just under 1.5 pounds. Price starts: $499.
New iPad: A5X dual-core processor; 9.7-inch LED display with 2048 by 1536 resolution; 1GB RAM; 16GB, 32GB or 64GB internal memory; 5-megapixel camera; 1080p video recording and playback; accelerometer; ambient light sensor; compass; gyroscope; GPS; Bluetooth 4.0; Wi-Fi A/N; HSPA+, 4G LTE (on some models); 11,666 mAh battery; iOS 6. Dimensions and weight: 7.31 x 9.5 x .37 inches and 1.44 pounds (1.46 pounds with 4G radio). Price starts: $499.
Samsung Galaxy Tab 2: 1 GHz dual-core processor; 10.1-inch WXGA display with 1280 by 800 resolution; 1GB RAM; 16GB or 32GB storage; microSD slot (up to 32GB additional storage); 3-megapixel rear-facing and VGA front-facing cameras; accelerometer; barometer; gyroscope; GPS; Wi-Fi A/N; Bluetooth 3; Wi-Fi and HSPA+ (on some models); 7,000 mAh battery; Android 4.0 (Ice Cream Sandwich). Dimensions and weight: 6.9 x 10.1 x .38 inches and 1.4 pounds. Price starts: $399.
Amazon Kindle Fire HD 8.9" 4G LTE Wireless: 8.9-inch IPS display with 1920 by 1200 resolution; 1.5GHz dual-core processor; 16GB or 32GB storage; 1.3MP front-facing camera; ambient light sensor; accelerometer; gyroscope; digital compass; Bluetooh; GPS; Wi-Fi A/N; 4G LTE; HSPA+; Android 4.0. Dimensions and weight: 9.4 x 6.4 x 0.35 inches and 20 ounces. Price starts: $499.
Google Nexus 7: 7-inch back-lit IPS display (1280 x 800 resolution, 216 ppi); 1.3GHz Nvidia Tegra 3 quad-core processor; 1GB RAM; 8GB or 16GB storage; 1.2-megapixel front-facing camera; Bluetooth 4; Wi-Fi A/N; accelerometer; GPS; gyroscope; magnetometer; microphone; near field communications; 4325 mAh battery; Android 4.1. Dimensions: 7.8 x 4.72 x 0.41 inches and 0.75 pounds. Price starts: $199.
Price is Right?
Personally, Surface's price disappoints me. In August, in response to the low selling-price rumors, I expressed that "$199 makes loads of sense to me. Microsoft needs to practically give away Surface RT to gain market share fast". The company instead chooses to make a little profit, which is fine. But in a market with an elephant in the room, do you want to be a mouse that roars or larger mammal with bigger trunk?
In second quarter, iPad tablet market share rose to 69.6 percent, up from 58.1 percent a year earlier, according to IHS iSuppli (Q3 numbers aren't yet available). This is the elephant Microsoft must nudge out of the room.
"A major component of Apple's success to date is the company's well-developed ecosystem of content and applications it had in place before entering the tablet market, and its absolute control of the hardware, software and operating system", iSuppli analyst Rhoda Alexander says. "When a customer buys a media tablet, what he or she is really doing is purchasing a key to that ecosystem, not just a piece of hardware". Microsoft needs native apps to compete, and developers usually create apps for platforms with the larger sales volumes.
"People buy tablets for the apps", BetaNews commenter rauckr observes. "A year from now when (if) there is a good collection of compelling apps and the hardware can run them responsively, the RT platform may get a significant slice of the tablet pie. Get your popcorn ready, the show is about to begin".
Perhaps Microsoft believes the needed volumes to jump-start Surface share is achievable starting at $499. I would consider paying that price with detachable keyboard cover. What about you? Based on our earlier pricing poll, only about 13 percent of you would pay $499 or more for Surface.
Last month, colleague Martin Brinkman asserted that "Price will determine Windows RT's success or failure". Reader newyorkcitymale comments:
Microsoft should target Android tablets with the Surface RT, not the iPad. They should subsidize it and sell it at a loss--they can make up the difference with app sales, accessories and subscription services (to Xbox & Xbox Music). They need this to be a booming success right out of the gate, which means they need the original Xbox strategy -- undercut the competition with better hardware. Consumers love a good deal, especially in this economy.
That's my thinking, too. Gaining share fast matters more, but Microsoft chose a different approach. Reader NoOneImportant agrees, today commenting: "I also think they should lower the price until they have established a presence. Have they not learned a lesson from the failed Zune player?"
evan2k: "All things considered, the price is reasonable, although I was hoping that Microsoft would sell it at a loss, to gain market share fast. Turns out, they are not that desperate and in my opinion they shouldn't".
About midway through my writing this post, Apple sent out media invites for an event on October 23. If it's for the long-rumored iPad mini, timing would be devastating for Surface, keeping in mind Apple's larger market share and more established app ecosystem.