New Google Chromebook is $249, swaps x86 for ARM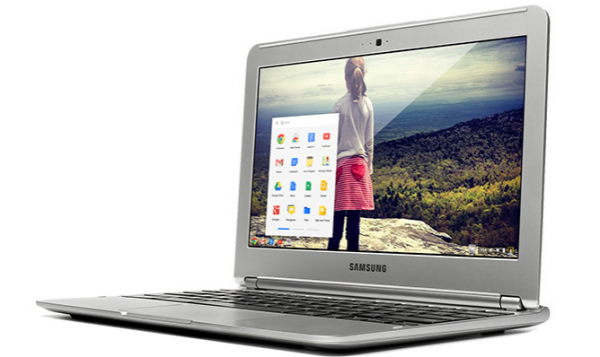 Google and Samsung are giving Chromeboook a mighty big makeover -- smaller screen, lower price and something unexpected: ARM processor. Say goodbye to x86, baby, and hello to $249 selling price, which is $200 less than Samsung's Series 5 550 model. The architectural change comes as Microsoft and its OEM partners prep ARM-based Windows RT computers for release in just eight days. Like Windows 8 systems, future Chromebooks will have either ARM or x86 processors.
ARM means there's more Samsung in the new model than ever before, which includes the microprocessor. That makes the new Chromebook a lot closer to an end-to-end product that Apple might make. Judging from Google-Samsung success with Galaxy Nexus, which feels integrated all the way -- hardware, services and software -- the new Chrome OS device promises much. Kilogram for kilogram, the device is ready to stand against MacBook Air, which offers same screen size and similar dimensions but starting price is $750 more. Then there are ultrabooks, some of which sell for even more than Apple's laptop.
Remember, I switched from the high-end MacBook Air to Series 5 550 Chromebook about five months ago. Performance is similar all the way, and in many respects better. So it's not unreasonable to place some lofty expectations on the ARM-based model. That said, only testing will tell, and I'll offer a full first impressions report within a couple of days (If not for Google and Microsoft earnings coming later this afternoon, sooner). Architectural change will be the truest test of Google's cloud promise to date. Will web apps run as well, or at all? I'll let you know.
But I'll say this. There's no mistaking the design similarities to MacBook Air, which can't be accidental. Will performance be good enough, by comparison? Testing will tell.
Quick specs: Samsung Exynos 5 dual-core processor; 11.6-inch display, 1366x768 resolution, 200-nit brightness; 2GB RAM; 16GB SSD; SD-card slot; VGA camera; USB 2.0 and 3.0 ports (one each); Bluetooth 3.0 compatible; HDMI port; Chrome OS. Weighs 2.5 pounds (1.1 kg) and is 0.8 inches thick. The new design moves the ports to the back from the side.
I have some reservations about the processor's real power and memory easily could be inadequate. Samsung's newer x86 Chromebook is fast compared to the original's sluggishness, and RAM is a major reason; 2GB in the old, 4GB in the new. So my trepidation runs high, regarding memory. I'm not loving the idea of 200-nit brightness, but, again, only testing will tell. Google states 6.5 hours battery life, which is good but I would expect more from an ARM processor.
Google's tagline for the new Chromebook is "for everyone", which reveals all you need to know about the target market. That starts with the $249 price, which is tough to beat. Plenty of people griped about the current Samsung x86 model costing too much for what they get -- $449 for WiFi-only, $549 with Verizon 3G wireless added. I see $249 as a pretty irresistible price, assuming performance is there. That's for WiFi-only; there is no 3G model at this time. Yesterday, Derrick Wlodarz offered refreshing perspective about Surface and Chromebook prospects in k-12 education, in part because of their easier manageability to say iPad. The new Chrome OS-based mobile cranks up the pricing appeal.
That goes for anyone who embraces the cloud and/or the Google lifestyle. I could outfit my home office with the new Chromebook ($249), Galaxy Nexus smartphone ($349) and Nexus 7 tablet ($199) for $797 -- less than just MacBook Air or most ultrabooks. Sure, there's no Core i processor. But do you need it? Particularly for cash-strapped students, sole-proprietors and small business owners the answer will be no. Then there are home users looking for a new PC but not wanting to spend big bucks.
"Many people use the Chromebook today as the perfect additional computer for their home", Sundar Pichai, Google senior veep, claims. "For families, it's easy to use and share: for kids doing homework on the couch, parents catching up on emails at the kitchen counter and grandparents staying connected on video chat". That's our household experience.
Google, and also Samsung, make a big value play here -- leveraging the cloud. To facilitate that, the new Chromebook comes with 100GB free Google Drive storage for 2 years.
"Starting today, the new Samsung Chromebook is available for pre-order online from Amazon, Best Buy, PC World and other retailers", Pichai says. "Next week it will be available for sale from these same online retailers as well as the Google Play store. You can also buy them at over 500 Best Buy stores across the U.S and over 30 PC World and Currys stores in the UK".
Pre-orders start at 3 pm EDT. Note that Google will sell direct starting next week.