Nexus 7 32GB is real and for sale now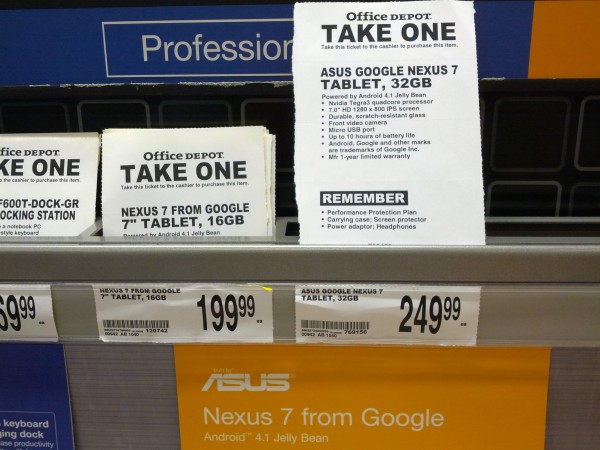 I just hauled back from the local Office Depot, which has Nexus 7 32GB in stock -- well, one left, for $249.99. The 16GB model is now $199.99, replacing the 8 giger at that price. So the rumors were true, and not all that surprising. I didn't check the local Gamestop, but online the 16GB tablet is $199.99. So it's not rocket science what's coming.
Something unexpected: With all the rumors about Android 4.2, I expected that version. But the spec sheet has 4.1. So it's anybody's guess what to expect and when. The real question: What new product pops next and where. Google may have cancelled the New York Android event because of Hurricane Sandy, but that may not stop retailers from going ahead with plans to offer product. The channel isn't easily stopped, particularly when there is chance to get in front of competitors with a hot product. Retailers don't share Google's priorities.
So keep a watchful eye for the rumored Nexus 4 smartphone and Nexus 10 tablet, which could drop anytime -- and before Google can reschedule. Why postpone at all? Just hold a last-minute virtual event, streaming from YouTube. Send out review units to grubby A-list tech sites. Why wait?
Confession: I really wanted to buy that last Nexus 7. I'm in process of going all digital magazines, and my 8 giger just doesn't have enough capacity to handle the torrent of fat, sassy downloads. But I waited. Budget is tight, and maybe Nexus 10 will be better choice. Anyway, if you held out for Nexus 7 32GB, don't wait to be next in line. My guess is that supplies are limited.
Photo Credit: Joe Wilcox