Amazon sees opening, attacks iPad Mini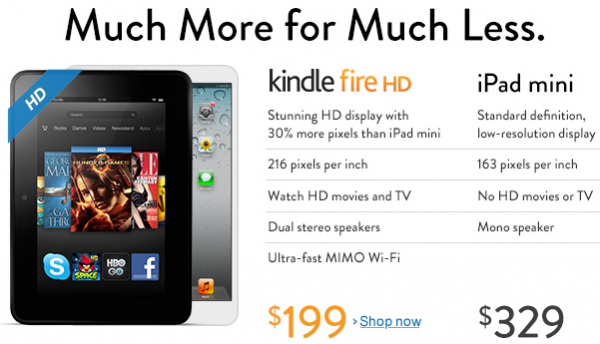 If you haven't been to Amazon for a day or so, do visit and check out the guerrilla marketing before it's gone. The online retail giant has revamped its ever-changing home page to directly take on iPad mini. A graphic compares iPad mini with Kindle Fire HD -- highlighting differences such as display resolution, HD playback and stereo instead of mono. Of course, the glaring difference is the price -- $329 versus $199, Apple's device being the more expensive.
Last week, Amazon boasted that the day after Apple announced iPad mini, $199 Kindle Fire HD had its biggest sales day ever, implying that many people waited to see the competition and then went for the Amazon product instead.
Ironically, Apple chose to go after the Google Nexus 7 during its big press event announcing the iPad Mini last week.  While the company never named the device, only referring to it as that Android tablet, a photo made the reference clear. Google responded in kind today with a new 7-inch model with 3G and Nexus 10, which offers higher screen resolution than iPad 4 for lower cost. The $299 Nexus 7 32GB with HSPA+ goes on sale November 13, or 11 days after iPad mini. For $30 less, the Google tablet offers twice the storage capacity, higher screen resolution and inclusion of cellular data, a feature that Apple doesn't offer for less than $459.
Nexus 10 packs the highest screen resolution of any tablet -- 2560 x 1600 -- for $100 less than iPad 4. For same price as Apple's entry-level slate, Google offers twice the storage capacity ($499).