Google Nexus 10 is ugly, and Nexus 4 has no LTE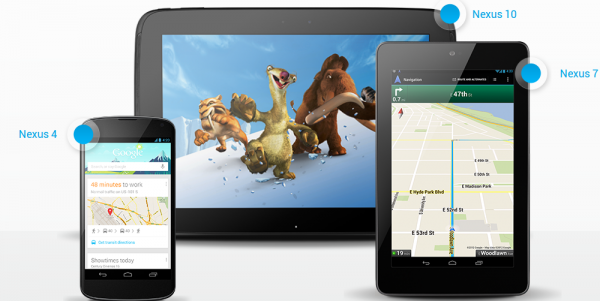 Damn, and I had so expected to upgrade.
Surely there's a metaphor here somewhere. Hurricane Sandy blew out Google's Android event, but the news came anyway like a storm raining down on Windows Phone 8's launch. Today, Google debuted the long-rumored Nexus 4 smartphone and Nexus 10 tablet, added a 3G Nexus 7 to the product family and took the wraps off Android 4.2. But in looking over the news, I'm not nearly excited as I expected to be. The new handset is HSPA+, in a LTE world. The larger tablet lacks the design charm that makes Nexus 7 so appealing; Samsung produces what in the photos looks like a stuffed Galaxy Tab with super duper high-resolution display. Maybe I'll warm up before sales start November 13. How unlucky a number is that?
We have three stories up on the news, but not a one goes through the system configurations. So I'll give them up here, as well as pricing. Google Play will carry all the devices, and T-Mobile will offer Nexus 4 and 3G Nexus 7 -- the latter for as yet unspecified subsidized price.
Since Google is using a three-size marketing tagline, I'll follow that and discuss the devices from smallest to largest.
Nexus 4
LG produces the smartphone. Samsung makes predecessor Galaxy Nexus, which I use.
Specs. 4.7-inch IPS display, 1280 x 768 pixel resolution, 320 pixels per inch; Qualcomm Snapdragon S4 Pro processor; 2GB RAM; 8GB or 16GB storage (depending on model); 8-megapixel rear-facing and 1.3MP front-facing cameras; GSM/EDGE/GPRS (850, 900, 1800, 1900 MHz), 3G (850, 900, 1700, 1900, 2100 MHz), HSPA+ 21; WiFi N; wireless charging; Bluetooth; NFC; SlimPort HDMI; accelerometer; ambient-light sensor; barometer; compass; GPS; Gyroscope; microphone; 2,100 mAh battery; unlocked; Android 4.2. Measures 133.9 x 68.7 x 9.1 mm and weighs 139 grams.
The 8GB model sells for $299 and the larger-capacity one for $349, starting November 13. T-Mobile's subsidized price is $199, available a day later.
The good.
Phone is unlocked and carrier contract free.
Entry-level price is now $50 less and quite a value.
Packs 2GB RAM, which is twice that of earlier Nexus smartphones.
The main camera is 8MP and supports new features found in Android 4.2.
T-Mobile remains in Google's good graces, with its odd data frequencies supported. Actually, every Nexus device, and even the first Google phone (G1), runs on T-Mobile's data network.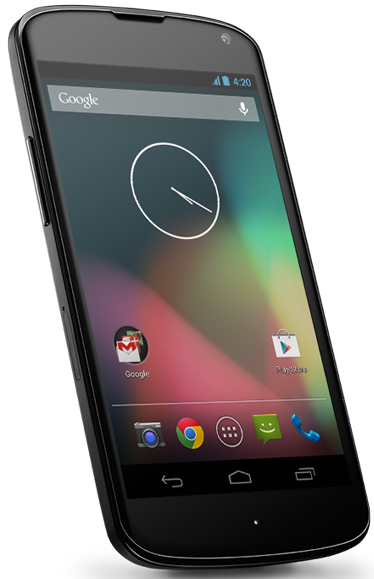 The bad.
There's no LTE, which is simply unacceptable for a smartphone in this price range.
Samsung displays are remarkable for brightness and contrast, but Nexus 4 is LG-manufactured.
Many buyers will suffer sticker shock, not necessarily seeing the hidden, contractual price difference between a subsidized $199 phone with 16GB storage for $199 compared to Nexus' 8GB for $299.
I am hugely satisfied by Galaxy Nexus, which camera is remarkably good. I lack confidence that LG will deliver as good, even with 8MP (GN has 5MP). Then there is no LTE, which is just about a deal breaker for me. Faster bandwidth is the biggest benefit I can see upgrading to any new handset. Carrier subsidized LTE, like the models available from Sprint or Verizon, isn't acceptable. So-called "pure Google" should be better, and HSPA+ isn't good enough for me. Of course, in part that's because I'm on AT&T. T-Mobile offers superior HSPA+ in my experience. You?
Nexus 7
Google's 7-inch tablet, which ASUS produces, is largely unchanged. The 8GB model is gone, replaced by the 16 gigger for the same $199 price. Stepping into $249 is Nexus 7 32GB, which is new. Google also offers a 32GB 3G tablet for $299.
Specs. 7-inch back-lit IPS display, 1280 x 800 resolution, 216 ppi; 1.3GHz Nvidia Tegra 3 quad-core processor; 1GB RAM; 16GB or 32GB storage (depending on model); 1.2-megapixel front-facing camera; GSM/EDGE/GPRS (850, 900, 1800, 1900 MHz), 3G (850, 900, 1700, 1900, 2100 MHz), HSPA+ 21 (one model); WiFi N; Bluetooth; accelerometer; GPS; gyroscope; magnetometer; microphone; NFC; 4325 mAh battery; unlocked; Android 4.2. Measures 198.5 x 120 x 10.45mm and weighs 340 grams.
T-Mobile's price is a mystery, but subsidized could get the price down to $149 or even $99 under two-year contract.
The good.
Exceptional value for microprocessor and storage capacity.
Quad-core processor simply isn't otherwise available in this price range.
Once again, Google sticks with T-Mobile by supporting its HSPA+ frequencies.
Apple's cheapest iPad mini costs $30 more, with half the storage, less screen resolution and no cellular option.
The bad.
There's no LTE, which puts cellular capability behind all other mainstream tablets.
I'm tempted by the 3G model. I had considered moving up to the 32GB model, as the 8 gigger is no longer enough. For $50 more, there's cellular radio and my family is on AT&T's shared data plan. I currently use the now retired tablet more than any other computing device.
Nexus 10
Samsung makes the long-rumored tablet, which, for my tastes, bears too much resemblance to Galaxy Tab 2 10.1 -- right down to the front-facing speakers. No wait! It's more like a cross between Tab and Motorola XOOM, what their offspring might be.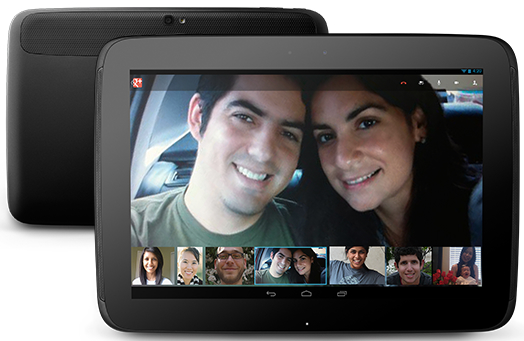 Specs. 10.055-inch display, 2560 x 1600 resolution, 300 ppi; 1.7GHz Exynos 5 (Cortex A-15) dual-core processor; Mali T604 graphics chip; 2GB of RAM; 16GB or 32GB storage (depending on model); 5MP back- and 1.9MP front-facing cameras; WiFi N; micro HDMI; Bluetooth; accelerometer; ambient-light sensor; barometer; compass; GPS; gyroscope; microphone; NFC; 9000 mAH battery; Android 4.2. Measures 263.9 x 177.6 x 8.9 mm and weighs 630 grams.
The good.
Thinner and lighter than iPad 4.
2GB RAM is twice that of most other tablets.
Highest screen resolution of any tablet, even iPad 4.
Tighter pixel density of any other tablet (iPad 4 is 264).
Dual-core processor and graphics chip are superior performers.
Price is aggressive compared to iPad 4; 16GB sells for $100 less.
Front-facing speakers are better positioned for digital entertainment.
The bad.
Overly-rounded corners won't appeal to some people (like me).
Overall industrial design suggests chubbiness where there really isn't any.
Front-facing speakers could cause feedback during video calls or Google+ Hangouts.
There is no 64GB model, which is unfortunate given the marketing push around magazines and other digital content.
Google sells the 16GB Nexus 10 for $399 and the 32GB one for $499.
I have mixed feelings about the tablet, and wonder about you. The screen resolution is huge benefit almost to a fault. Will anyone want to use a PC or other tablet after experiencing such visual crispness?
But I'll concede this: Nexus 10 sets the standard for all Android tablets and quite possibly for any other, including iPad 4 and Surface RT. My gripes about design aside, Google and Samsung deliver a device specked to the max.