Will you buy Google Nexus 10?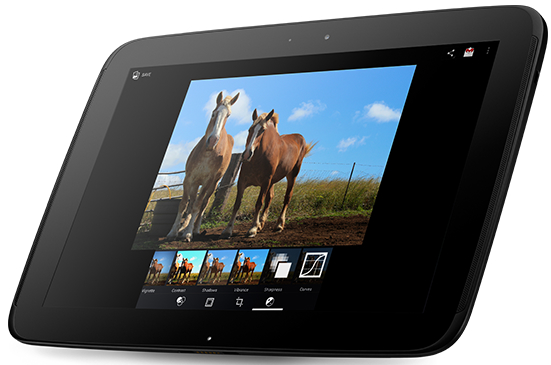 Two weeks from today, Google's first 10.1-inch tablet, manufactured by Samsung, goes on sale from the Play store. If the search and information giant is smart, pre-orders will start sooner, sure to generate buzz even as Apple seeks some when iPad mini arrives November 2. The question I have to ask: Will you buy?
That's no easy answer for competitive shoppers. Thanks to Windows RT, there's no shortage of tablets to choose from this holiday season. Nexus 10 is compelling nonetheless. Screen resolution is highest -- 2560 by 1600 -- available on a tablet, and that's more than iPad 4. Price is hugely competitive. The 16GB model sells for $100 less than Apple's comparable tablet. Then there is Android 4.2, newest Jelly Bean iteration, and promise of continued updates free of vendor skins and other changes. As the expression goes: "Pure Google".
Yesterday, I expressed doubts about the tablet, which design doesn't woo me -- at least not from product shots. "Why all the Nexus 10 hate?" reader intangible asks. "It's a great looking device, fantastic performance hardware all around it seems. I'll be passing along my Transformer Prime to the wife to get one. The price is perfect as well".
The front-facing speakers, similar to Galaxy Tab 2 10.1, promise booming sound, and reader intangible rightly observes that speakers placed on the back "are just annoying when there is any ambient noise around you".
Xuanlong shares my misgivings:
The Nexus 10 is a nice tablet, but to me it just lacks the style that other manufacturers bring to the table. The rounded corners and plastic body just don't say high-end like the bodies of the Surface and iPad do. I wasn't impressed when Apple was able to cram more pixels onto the screen of its iPad, so I can't say it's a big selling point for me on the Nexus 10. At some point it's just overkill and not a huge difference, certainly not worth paying up for. I'd rather have a standard HD screen and a few bucks off the price, honestly.
To help you answer the question, please look at the system specs and those for iPad 4 and Surface RT. I chose these other two because they're new and heavily advertised.
Nexus 10: 10.055-inch display, 2560 x 1600 resolution, 300 pixels per inch; 1.7GHz Exynos 5 (Cortex A-15) dual-core processor; Mali T604 graphics chip; 2GB of RAM; 16GB or 32GB storage (depending on model); 5MP back- and 1.9MP front-facing cameras; accelerometer; ambient-light sensor; barometer; compass; GPS; gyroscope; microphone; NFC; WiFi N; micro HDMI; Bluetooth; 9000 mAH battery; Android 4.2. Measures 263.9 x 177.6 x 8.9 mm and weighs 630 grams. Price: $399 (16GB); $499 (32GB).
Surface RT: 10.6-inch ClearType HD Display, 1366 by 768 resolution, 148 ppi; 1.3GHz Nvidia T30 (ARM Cortex-A9) quad-core processor; 2GB RAM; 32GB or 64GB storage (depending on model); 720p front- and rear-facing cameras (meaning they're for video more than photos); accelerometer; ambient-light sensor; barometer; magnetometer; Wi-Fi A/N; Bluetooth 4; Windows RT. Measures 274.7 x 172 x 9.3 mm and weighs 676 grams. Price: $499 (32GB); $599 (32GB with keyboard cover); $699 (64GB with keyboard cover).
iPad 4: 9.7-inch LED display, 2048 by 1536 resolution, 264 ppi; A6X dual-core processor; 1GB RAM; 16GB, 32GB or 64GB storage (depending on the model); 5MP front- and 1.2MP rear-facing cameras; accelerometer; ambient light sensor; compass; gyroscope; GPS; Bluetooth; Wi-Fi A/N; 11,666 mAh battery (based on previous model); iOS 6. Measures 241.2 x 185.7 X 9.4 mm and weighs 652 grams. Price: $499 (16GB); $599 (32GB); $699 (64GB). (Apple also offers three costlier models with 4G LTE.)
I have compared WiFi models only. There currently is no cellular radio option for either Nexus 10 or Surface RT. Google's tablet is lowest price with highest-resolution display. Consider that a little Samsung payback to patent-suing Apple.
Commenting to my Google+ post on the tablet, Andrew Davis responds: "I actually really like the look of the Nexus 10, and I think it will come down to how it feels to use and how 'throwable' it is (this is similar to how people judged the Nexus 7 early on). For me, I am impressed with the Nexus 10 and its features for the price".
What about you? Will you buy Nexus 10. Please take the poll above and answer in comments below.