CyanogenMod 10 now comes with File Manager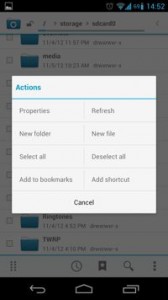 Android 4.1 Jelly Bean is not without its limitations. In order to perform a number of basic file operations, users have to download third-party apps from the Google Play Store. However, that's not necessary for those using CyanogenMod 10 nightly builds. The popular custom Android distribution now comes with an in-house file manager.
The team behind the project offers an alternative to popular solutions available on Google Play Store, but without any region restriction or price tag attached next to it. The interface is designed to offer sufficient functionality without confusing the user, all while offering a clean look and feel. Since CyanogenMod 10 allows the use of elevated permissions (popularly known as "root"), File Manager allows users to perform various file operations and access all items available on the internal and external storage.
File and folder operations menu can be triggered by a longer touch on the item or by using the button in the lower left corner of the app window. The former can be compressed, copied, deleted, renamed or selected. Users can view the properties, which allows to view information related to the file or folder such as size or last access, but can just as well modify permissions. The latter is useful for instance when dealing with certain files that cannot be accessed due to insufficient permissions.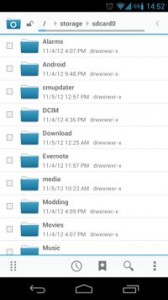 To make finding certain items easier, File Manager has a search function implemented, which displays results based on relevance by default. They can also be sorted based on name or not sorted at all, with both options available in the Settings menu. By default, File Manager is set to run in a safe access mode, but can be configured to trigger a prompt for actions that require elevated permissions or even to run with them on at all times. There is also a "history" feature that keeps track of all changes performed with the File Manager.
The app adds more value to CyanogenMod 10, especially for hardcore modders that want extra functionality out of the box. Users of the popular custom Android distribution should have most of their needs covered by File Manager.