Microsoft promotes Windows 8 with 'fast and fun' slide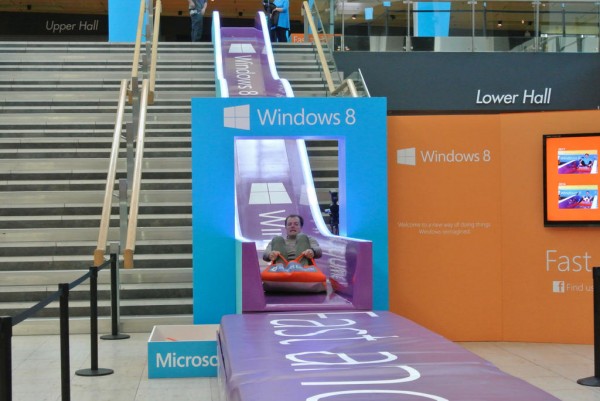 Whatever you think about Windows 8, there's no arguing that Microsoft has pulled out all the stops when it comes to pushing it. Cut-price upgrades, pop-up Microsoft Stores, TV ads, and a $500 million global marketing blitz (the largest in the company's 37 year history) means it's all but impossible to miss the new operating system.
And Microsoft is getting creative with its marketing too. Over the weekend the tech giant set up a giant slide at the Bluewater shopping center in the UK, providing shoppers with a "fast and fun" alternative to taking the stairs.
Shoppers had their photo taken as they travelled down the shiny purple slide, and these were displayed on a large LED screen at the mall and printed out as a souvenir for the sliders to take home. The pictures were also shared on Facebook and Twitter and will appear in a short film of the event.
Visitors who tweeted a picture of themselves with the #fastandfun hashtag were also entered into a competition to win prizes.
Photo Credit: Microsoft Windows UK