Play live music with friends online in Chrome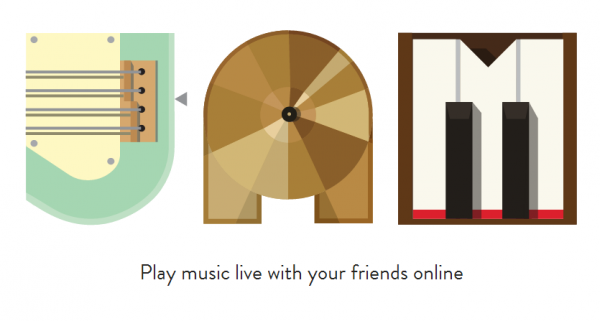 The only thing that ever stood in the way of my becoming a major international singer/songwriter was my inability to sing. Or write songs. I took guitar and piano lessons as a kid, and am pretty handy at Rock Band, but I'm not a great musician, so I never really get invited to jam with more musically-minded friends.
However, that might change, if I can persuade some of them to give Google's latest interactive Chrome experiment a try.
JAM with Chrome, lets friends play music live over the internet, directly through their web browsers. You don't need to install anything, just fire up Chrome and head here. Using the arrows at the left and right side of the screen, or the bar at the bottom, you can select the instrument you want to play. There are 19 different choices, including various keyboards, guitars, and drum kits.
Enter a nickname, or your real name if it's cool enough, and hit the Jam button. Tips will explain how to use the instrument, and you can switch between Easy and Pro modes depending on how proficient you are. Instruments can be played using the mouse or keyboard.
There are various additional options at the top of the screen. You can toggle the metronome on or off, change the tempo, select the key to play in, and switch instruments.
When you're fully conversant with everything, you can invite up to three friends to join your session by emailing a link or sharing it directly in Twitter, Google+ or Facebook. Once everyone's connected, the Chat option will let you discuss what you're going to play, how great you are, who was really off last time, and of course to announce your inevitable resignation due to musical differences.