Google updates Shopper for Android and iOS, makes spending money easier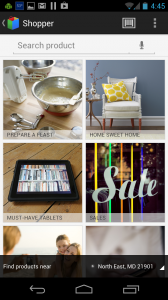 First Amazon and now Google. The holidays begin earlier every year. Amazon got things kicked off by first rolling out the traditional Black Friday Store and then, more recently, the new Santa App. Now Google has decided to step into the fray with its own holiday season release to aid customers in lightening their wallets.
Today Google rolled out version 3.0 of its Shopper app for Android and iOS devices and packs some enhancements to get you through your holiday season shopping and relieve you of a bit of money, albeit at a discount mind you.
What can you expect in Google shopper 3.0? First, the new app has a redesigned home screen that most, but not all, users will find an improvement over the previous version. I found the larger search box made navigation a bit simpler and the bigger images added more detail, making it easier to view what you will be buying.
Second, there is a new sales page that finally allows customers to view weekly circulars from nearby stores -- select shops though, not all. Google also claims this page will include "a handful of featured current promotions which you can redeem online or in person", although I did not receive any when I checked the page.
Finally, The Shopper app now uses GoodGuide ratings, which indicate, on a one-to-10 scale, whether a product is considered healthy, safe and environmentally friendly. Being fairly eco-minded, this is my favorite new feature in Google Shopper 3.0.
There are some things to bear in mind, such as the app asks for permission to access your Google account, but since it is actually from Google this shouldn't cause much concern. The app is also handy for scanning barcodes and even book, magazine, CD and DVD covers, and also allows you to set your location to make it easier to find local stores and deals and, of course, get those local flyers.
On the whole, the improvements are a step up, although I didn't see the featured promotions. I did find the GoodGuide ratings quite handy, and the app is free and easy to use, as well as being especially appropriate for this time of the year. It's a good choice for most intrepid holiday shoppers.