Control Panel for Android brings Jelly Bean 4.2 quick settings to older devices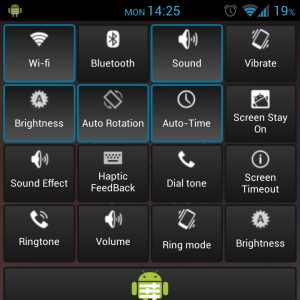 Tomorrow Google will launch Android 4.2 on the Nexus 4, 7 and 10 with nifty new features such as notification panel quick settings. With similar functionality the latter can now be experienced on older versions of the popular operating system through Control Panel for Android.
Instead of adding another button in the notification panel or popping up after a two-finger swipe, Control Panel for Android delivers quick settings rather differently. The app is pinned in the notification panel and quick settings is triggered with a single tap on it. But the number of available toggles makes up for the quirky triggering method. Using Control Panel for Android users can control Wi-Fi, Bluetooth, sound, brightness, auto-rotation, screen stay or haptic feedback among other features.
The amount of available configuration options is impressive but there are two issues. The first is its design, which simply looks out of place in modern Android versions, especially stock. The other problem is that after quick settings is closed the app still remains active in memory and shows up in the Recents panel.
Neither of the two issues should detract from its feature-set, which is still the most important aspect, but both will easily be noticed by more demanding Android users.