Meet Android 4.2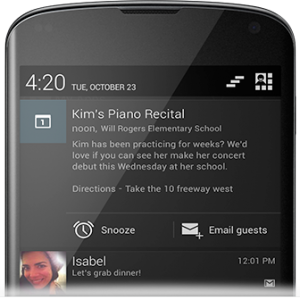 Yesterday, when reporting about Nexus 7 32GB showing up on Office Depot shelves, I asked: "Why wait?" Google may have cancelled today's Android event because of Hurricane Sandy, but there are many good reasons to announce anyway -- and stealing thunder from Windows Phone 8's launch is one of them.
Google went ahead, today announcing the long rumored Nexus 4 smartphone, Nexus 10 tablet and Android 4.2. It's no Key Lime Pie but more Jelly Bean. Make no mistake, despite the point-one update and nomenclature, this is a big upgrade.
In August, I asked: "When is a phone camera good enough?" Today Google answers: Now! A year ago, with Galaxy Nexus and Android 4.0, Google brought panorama shooting to mainstream smartphones. Apple only added the capability to iPhone 5 last month. Google does a little oneupmanship with 360-degree panorama shooting. It's smart, in a way, considering people are used to panning that way on Google Maps. Now they can make their own. Google provides a website where users can contribute their Street View panoramas from around the globe.
The approach is simply brilliant, which borrows from high-end camera maker Leica. The company's Panasonic-produced V-Lux line features GPS. Leica at one time offered, and may still, a community site where photographers could post their images from around the world -- GPS identifies location. Google's approach is similar but goes much further. Both concepts share community building, which the search giant is better positioned to extend because of Google+ and Maps. The company collects high-quality panoramas, while connecting a global community of Android users. It's superbly social.
Speaking of social, family members can now more easily share tablets. According to Pew, 25 percent of Americans have tablets -- 3 percent share one owned by someone else in the household. Android 4.2 supports multiple accounts, so that one tablet can be shared among many people. Dad can keep the kids from deleting email or other content while letting them play games. According to Google: "Everyone can have their own homescreen, background, widgets, apps and games – even individual high scores and levels! And since Android is built with multitasking at its core, it's a snap to switch between users – no need to log in and out. Available only on tablets". Like I really want to share my tablet. Hey, some things are really personal.
But sharing doesn't stop there. Android 4.2 supports streaming content HDMI-enabled TVs (why the need for HDMI, I can't yet say). This is a big (cough, cough), catchup feature to iOS, which has long supported content streaming via Apple's AirPlay.
Some things you don't want to share -- or your employer doesn't. Android 4.2 improves security features such that iPad finally will have some competition in the enterprise (alongside Microsoft Surface). Apparently, Ars Technica got a briefing we didn't, because Florence Ion has details on security enhancements I don't:
Android 4.2 will include Security-Enhanced Linux, essentially a set of kernel add-ons that keep applications from running rampant. Users can enable this feature to control how much access certain applications have to their handset's root files, ensuring that those files are sealed from prying eyes—or apps, in this case. Android 4.2 also includes VPN lockdown, which guarantees that certain data is sent over-the-air only while connected to a specific network.
These are big, overdue upgrades that have kept Android devices from getting the kind of enterprise attention given to (declining) BlackBerry and (rising) iPhone. It's inconceivable that Google didn't make these kinds of security features priorities sooner and offer them three Android versions ago.

Gesture Typing is another big feature add. According to Google: "Writing messages on the go is easier than ever with Gesture Typing – just glide your finger over the letters you want to type, and lift after each word. You don't have to worry about spaces because they're added automatically for you. The keyboard can anticipate and predict the next word, so you can finish entire sentences just by selecting suggested words. Power through your messages like never before".
In perhaps another knock against iOS while providing something users really want, Android 4.2 is more customizable. Already, homescreen widgets allow for much more customization than iOS. Rooting and installing custom ROMs offer much more. Google product info mentions the capability in passing without offering specifics.
Daydream is another new feature, and Google is none too specific about it: "Daydream lets your Android device display useful and delightful information when idle or docked. Show off your photo albums, get the latest news from Google Currents, and more". What content? I suppose the cancelled Android event would have answered that one.
Notifications, a feature Apple copied borrowed from Android, get a big makeover. They are now more task-oriented, as are updates to Google Now, Google's digital assistant that smokes Apple Siri.
Users can now do more with Google Play on their devices, including more account management. The store also features more movie, music and TV content, starting today.
Those are the top-line changes, but there are others we'll highlight when the software blesses our "pure Google" devices with its presence.