Box for Android 2.0 cloud storage app launches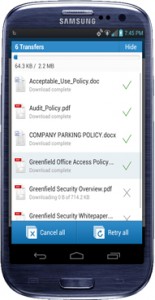 Following the foray into Windows 8/RT territory, cloud storage service Box announced an overhauled app for Android devices today. Box for Android 2.0 delivers a number of new features such as document preview and offline folders on top of under-the-hood changes. But even though the name might suggest otherwise it is not limited to Eclair green droid users.
One of the most noteworthy features added to Box for Android 2.0 is document preview. Similar to other green robot competitors like Google Drive, it can render more than 75 types of files within the app without having to resort to third-party solutions. For working outside the grid, the updated Box can now also save folders in encrypted form for offline use on top of individual files. Outdated content will be reported after changes are performed.
In order to keep track of downloaded and uploaded cloud storage files, Box for Android 2.0 introduces a transfer manager that can be triggered by swiping up from the bottom of the screen. Similar to download managers, it cancels pending transfers and retries failed ones. Box also says that it may be used to "fix" transfers as well, although how it is performed is momentarily unclear.
Mainly for collaboration purposes, Box for Android 2.0 allows to edit and view descriptions for stored files and folders. Other changes include opening Box links within the app instead of the the browser, bug fixes, performance improvement and a facelifted user interface.
Box for Android 2.0 is available for download from Google Play.