How does the Nexus device shortage affect you?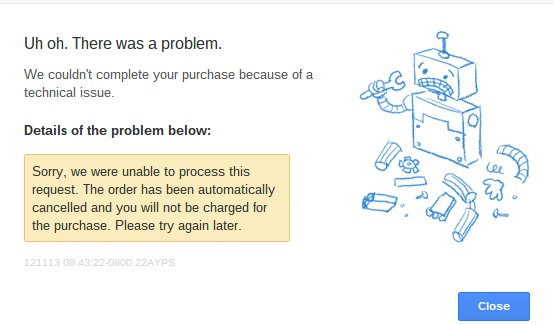 Yesterday I received Google Nexus 10, which Samsung manufactures. Like many of you, I stood in the virtual line to get the tablet and also the LG-made Nexus 4. Early after sales started November 13, I had both devices in my shopping cart. Google accepted my credit card and billing information. Only needed: to confirm the purchase, which I did giddily. Then Google rejected and cancelled the order. I never saw the smartphone for sale again. Today the status remains: "sold out". I feel lucky, but deeply dissatisfied, to get Nexus 10.
Blog and social network posts reveal that at least on these shores, many of you who successfully ordered received your devices yesterday. UPS tracking indicates my tablet arrived early, one-day shipping instead of two; that puts it in my grubby hands for the weekend instead of afterwards.
Botched Launch
But many more of you received something alarming. Rather than shipping notification, Google informed that your device wouldn't be available for some time -- in many cases weeks, for Nexus 4. The company is surprisingly silent about the problems. Did demand exceed expectations? Was the initial manufacturing yield too low? When will Nexus 4 be back in supply. Blogs and social networks buzzed with rumors on November 13 that Google would restock in three days. That time is gone, and Nexus 4 is still "sold out".
"I got very lucky", BetaNews reader Neoprimal explains. "I started my ordering process at 8:30 and I was not successful until 8:57 - by then I had gone through 3 orders that LOOKED successful but ended with the image above after hitting accept and buy. By 8:57 I did it for the last time and was no longer able to so I thought I had lost out. I got an email saying there there was an issue with the bank although I'd made many purchases through that same Wallet combination (CC) before. After clearing everything up, I got a receipt at 9:33 saying I'd made a purchase".
"Google is overrun", IT advisor comments. "There is lots of evidence that demand for the Nexus 4 is sky high. It will be a top-selling phone, once Google works out how to handle a deluge of orders. There is also ample enough evidence now that the competitor launches over at Redmond have flopped. So, Google wasn't prepared for a stampede wanting the Nexus 4, but I'd prefer to have Google's launch than the competitor's failed launch".
"This phone is selling like hot cakes because it is fine hardware dirt cheap. Other than there is not that much appealing to it", Roger_Ramshit comments. "They are basically buying market share".
Nexus 4 starts at $299, with 8GB storage, with another going for $349 with twice capacity. Both are unlocked and require no carrier contractual commitment. As early afternoon EST, November 17, Nexus 10 with 16GB storage is available, but the larger capacity model and both Nexus 4s are sold out.
Anger Brigade
I sharply criticized the product launch, and for good reason. Enthusiasts are any company's best marketers, but they also can be the worst when passion turns to anger. The negative buzz increases as the launch bungling grows. Bad enough eager beavers couldn't place orders, it's much worse now that people who thought they secured Nexus 4 won't get it right away -- perhaps for weeks.
Consider just the harsh reaction from Neoprimal, who successfully ordered: "They did a pretty bad job with the launch. Even if you don't expect the item to be a total sell-out, preparation should be made for such an event. They could have handled it much, much better".
The problem is one of expectations. Google rightly distributed Nexus 4 and Nexus 10 to blogger reviewers before sales day, and the majority raved. Anticipation soared high, mirrored by emotions sent low by disappointed geeks getting order errors and "sold out" notices. Now some of the lucky buyers join the sour sentiment, as they gawk in disbelief about email that is inconceivable. They likely won't receive gadgets before the long Thanksgiving weekend.
So instead of ongoing, reinforcing positive buzz -- starting with this weekend and continuing over Black Friday -- as buyers unpack their Nexus and show it off on the InterWebs, there is rage and complaint. Google misses out doubly. Rather than ramp up gadget geek interest to buy Nexus smartphone or tablet over the big shopping weekend -- Black Friday -- there will be, presumably, nothing to sell. Many potential buyers may instead choose a competing device offered on the biggest discount day of the year.
So all this leads into my question of the day: How does the Nexus device shortage affect you? Please take the poll above and also share in comments below. Unlike most of my polls, the responses are not mutually exclusive. For example, you may have tried to order and failed and now plan to buy something else. You can choose both. The poll seeks to measure buying success and future buying intentions, which aren't mutually exclusive. Please participate.