Nexus 4 is still sold out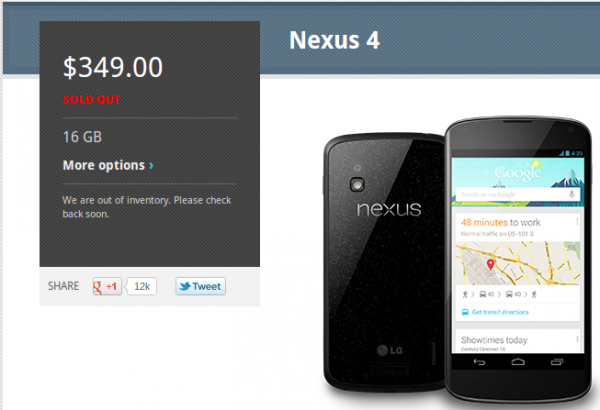 That's not the headline I hoped to write this Black Friday. Having used iPhone 5 and Nexus 4, I easily recommend the LG-made Android over the Apple. There simply is no comparison in terms of overall user experience. I'll go into detail in my comparative review, which I'm writing now (in another browser tab). Nexus 4 should be deal of the day -- even full price. Not that you can pay the price. It's simply abominable that Google has none to sell; T-Mobile is sold out, too.
Trust me, if there was even whiff of supply, Nexus 4 sales page would read "ships soon" rather than "out of stock". The smartphone's Black Friday absence suggests deep shortage, unless someone at the top of Google's retail supply chain thinks Cyber Monday is better day to bring back the smartphone. Absolutely not. Because over the next three days, some buyers wanting Nexus 4 will take a hot deal on some other handset.
Many of you would buy, if only Google had something to sell. Last week I asked: "How does the Nexus supply shortage affect you?" Fifty-one percent "would order if devices were in stock". Demand is there. Too bad Google has no phones to sell.
New Nexus 10 tablets are somewhat better. The $399 model is in stock; the $499 32 gigger can be ordered but "ships in 2 - 3 weeks". All Nexus 7s, including the one with HSPA+ cellular data, are in stock.
As I explained last week, Google really botched the Nexus 4 launch. According to our poll, nearly 25 percent of respondents tried to order a device. Only 8.75 percent of respondents succeeded. Matters are worse -- the biggest sales weekend of the year is here.
"I still can't understand why Google doesn't just take pre-orders", BetaNews reader SDsurfin asks. "Let me check out and then, when the phones come in stock, charge my card and mail it to me. This stupid game of checking the website every 2-3 days is getting old. We might have some. We might not. Who knows? To add insult to injury they have the 'You can buy one from T-mobile now!' link. Yeah, I'm gonna go screw myself with a 2-year T-mobile contract. Get your act together Google! Take pre-orders and call LG and tell them: 'We need about 16 million more phones'".
Designating the costlier Nexus 10 as "ships soon", and that being weeks away, essentially is what Google does. That suggests to me the severity of the N4 shortage. Definitely between the choice of taking Black Friday weekend orders that might not ship for Christmas and offering nothing at all, the latter is Google's more sensible choice.
I've got two stories coming within days -- first-impressions review and comparison to iPhone 5. I can tell you why Nexus 4 is a great smartphone. If only you could buy one.