Google is red face ahead of Black Friday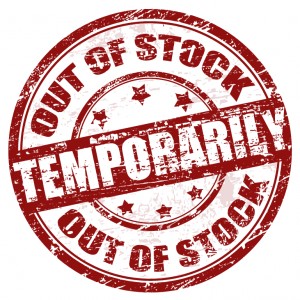 Some advice to Google: If you launch exciting new products right before the holidays, it's a good idea to have them to sell. Not only are new Nexus devices sold out, so are new Chromebooks. Worse, they're not available in stores that stock them. Ah, yeah, what a brilliant way to push a new product category to the masses: Look, but you can't buy.
The new $199 Acer and $249 Samsung Chromebooks are on display in 500 Best Buys, and Google staffs sales specialists, who are there during store hours and are contracted through the end of the year. But the search and information giant can't stock Chromebooks. Like Amazon and Google Play, the Samsung Chromebook is sold out (the new Acer model is still available from Google today but not yet stocked by Amazon). Units coming into Best Buy are generally already claimed from online orders. Even the few returns, available as open-box purchases, sell within a couple hours. Google pays sales staff to educate potential buyers, who leave stores empty-handed.
Not for You
Google's marketing tagline is "for everyone". But Chromebook isn't for everyone if most anyone can't walk into a store, talk to a sales specialist and actually buy the product. Strangely, despite being consistently "temporarily out of stock", the $249 Chromebook remains Amazon's top seller in "Computers & Accessories" (nearly a month now). That says something about demand and the number of people willing to order and wait.
Presumably, Google is in process of spending tens of millions bringing Chromebook to the masses. Concurrent with the $249 model's launch last month, advertising is aggressive -- US primetime TV, on the web and in major publications (Did you see two-page spread in the New York Times?) Then there are those in-store displays and Google sales staff.
Chromebook brings new concepts to computing -- running applications in the browser instead of installed locally and storing all data in the cloud. Education is part of the process, but so are sales. Isn't selling the point? Look but don't buy is no sales strategy. Black Friday is days away, when big products go on sale with deep discounts, pulling buyers attention to what's safe and known rather than what's new and untried -- even for Chromebook's eye-popping low pricing.
Every manufacturer's or retailer's worst nightmare is this: Overstocking. No one wants to have too much of something that turns to loss rather than profit, and that particularly must be true of a presumably low-margin product like Chromebook.
Stocking Woes
Google's stocking problem is much bigger than Chromebook, which initially sold out within hours launch day on Google Play. Consider new Nexus smartphones and tablets. Again, Google makes massive investment promoting the devices, which sold out during launch day and remain available. Worse, many Nexus 4 buyers received delay notices late last week. As I write, both Nexus 4 models remain "sold out", as they have since their November 13 launch. The 16GB Nexus 10 is available from Google Play, but not the costlier tablet.
Google's challenge, along with partners Acer, LG and Samsung, is manufacturing and shipping enough product without doing too much. That won't be easy. From typical retail stocking strategies, replenished product will come to market way late, despite demand. Yesterday, I polled readers about the Nexus supply shortage. Forty percent of respondents say they "would order if devices were in stock".
Google and its partners should have better anticipated demand and had enough stock on hand, particularly given investments in advertising and other marketing initiatives. My question: Google gets so much right because of smart math. Where's the algorithm to calculate sales demand? Guesswork isn't enough.
My prediction: Shortages will persist throughout the holidays, because so late in the season there is too much risk of overstocking, particularly Chromebook. Google and its partners probably can't produce enough Nexus devices, however, lowering risks of getting stuck with unsold stock.
No matter what happens, one thing is clear: Google has much to learn about retail sales.
Photo Credit: ducu59us/Shutterstock