Care about driving efficiency? Try Fuel Calculator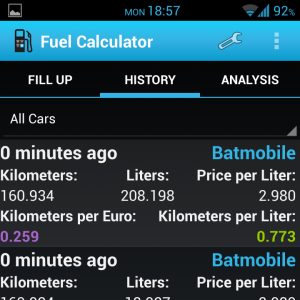 With an increasing number of car manufacturers jumping on the efficiency bandwagon it's rather interesting that none touts a driving cost meter. Luckily Fuel Calculator keeps track of fuel bills and efficiency right on your Android device.
Fuel Calculator allows the driver to determine fuel costs over time, for more than one vehicle, through a detailed history based on each fill up. It also delivers a number of indicators such as average distance per unit currency (in KM per EUR for instance) or total amount of used fuel (in gallons or liters). In order to determine the cost the app requires the user to input distance between fills, quantity of fuel used as well as the price per unit, in the "Fill Up" tab.
The "History" tab displays each fill with adjacent cost as well as drove distance and efficiency indicators like MPG or KM/l. Results can be displayed in either imperial or metric units, and a number of currencies can be used including EUR and US$.
Fuel Calculator is available to download from Google Play.