Minecraft is coming to the Raspberry Pi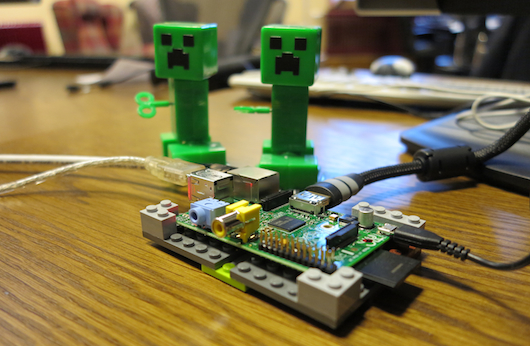 A port of the incredibly popular indie sandbox survival game Minecraft will soon be available for the Raspberry Pi, and if that news isn't enough to get you excited, the price might -- it will be entirely free.
Minecraft: Pi Edition (a port of Minecraft: Pocket Edition) was officially unveiled at Minecon in Paris, and offers a revised feature set and support for several programming languages, so users can code directly into the game. According to Minecraft publisher Mojang, users will be able to "start by building structures in the traditional Minecraft way, but once you've got to grips with the in-game features, there's opportunity to break open the code and use programming language to manipulate things in the game world. You'll be learning new skills through Minecraft".
The uncased, credit-card sized Raspberry Pi computer connects to your TV and a USB keyboard and mouse, and costs just $35, giving Minecraft fans a very affordable way of experiencing their favorite game on a big screen.
"The possibilities are massive," Mojang's Owen Hill explains. "You could organize the cheapest LAN party of all time, or use the Pi to learn the fundamentals of programming on a miniscule budget. It's like hacking your way into Minecraft and modifying the game world with code, a bit like being [game developers] Notch, Jeb, or Nathan, but arguably more fun and less stressful".
Minecraft: Pi Edition will be available to download from the Raspberry Pi site soon.
Photo credit: Mojang