Hail Mary! The Pope tweets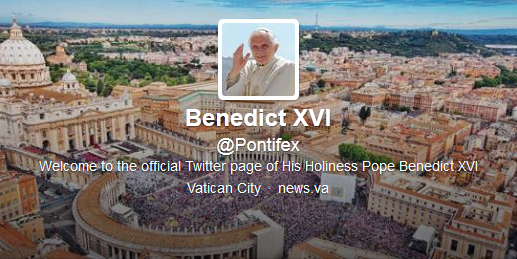 Pope Benedict XVI sent his first tweet last year via the Vatican's official Twitter account but now he's got his own personal account and plans to start telling followers what he had for dinner, posting communion wafer recipes, and retweeting comments from the likes of Ricky Gervais and Kayne West.
Well, maybe not. His account @pontifex (meaning both pontiff and "builder of bridges") will actually be used to send spiritual messages translated into eight languages (English, French, German, Spanish, Italian, Portuguese, Polish, and Arabic), and he'll likely be agreeing with the message rather than composing it himself.
According to Greg Burke, the Vatican's senior media advisor, "The Pope is not going to be walking around with a BlackBerry or an iPad". However, Burke also stressed that the tweets would be coming from the pontiff himself. "No-one is going to be putting words into the Pope's mouth. He will tweet what he wants to tweet".
In today's announcement the Vatican says: "The Pope's presence on Twitter is ultimately an endorsement of the efforts of these 'early adapters' to ensure that the Good News of Jesus Christ and the teaching of his Church is permeating the forum of exchange and dialogue that is being created by social media. His presence is intended to be an encouragement to all Church institutions and people of faith to be attentive to develop an appropriate profile for themselves and their convictions in the 'digital continent'".
There are 1.2 billion or so Roman Catholics in the world, so Pope Benedict XVI has a good chance of massing a pretty sizeable following in no time. A quick check shows he already has over 100,000 followers, which is far more than the 12 Jesus had.
The first tweets from @pontifex are expected to be sent on the 12 December, the Feast of Our Lady of Guadalupe, and will be answers to questions on matters of faith sent to #askpontifex.