YouTube gets big makeover for iPad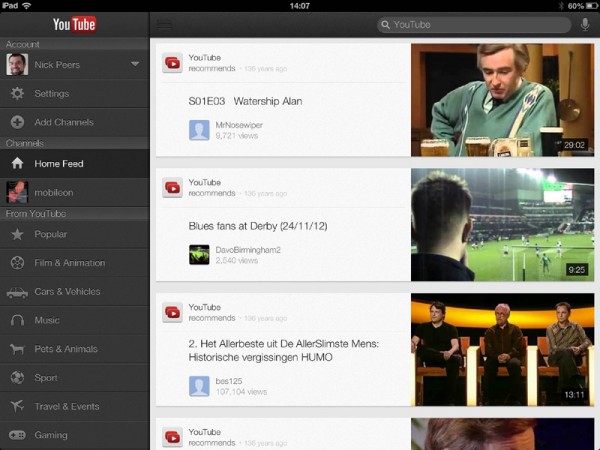 Google unveiled two major iOS app updates with the release of Gmail -- email from Google 2.0 and YouTube for iOS 1.1.0. Gmail 2.0 is completely rebuilt from the ground up, debuting a brand new look and feel, the promise of better performance and a number of major new features.
YouTube for iOS adds native support for both iPhone 5 and iPad, plus the capability of streaming videos via Apple's AirPlay wireless technology.
YouTube for iOS launched in September after Apple dropped the built-in app from iOS 6. With more than 25 percent of all YouTube videos watched through mobile devices, according to Google's Horia Ciurdar, the company was keen to respond promptly to user feedback. This manifested in enhanced AirPlay support for streaming videos from YouTube to an Apple TV-connected screen via the iPad or iPhone.
Other new features, alongside native support for iPad and iPhone 5, include the ability to tap the YouTube logo to access the user's channel list, plus the ability to add and remove videos from playlists from within the app itself. Video descriptions also now come with clickable links, while accessibility via VoiceOver has been improved.
Gmail 2.0 was rewritten with the idea of making the app faster, sleeker and easier to use. It showcases a brand new, minimalist look, utilizing various new animations including swivels and transitions.
As well as improved performance and a revamped user interface, Gmail 2.0 also adds some major new features: the search tool now comes with predictive text as you type. The app is also capable of responding to RSVP invitations via Google Calendar, plus posting comments and +1 to Google+ posts.
The app also adds multiple account support, allowing up to five different user accounts to be stored and switched between with just a couple of taps. Other changes include the display of profile pictures in messages and support for infinite scrolling through the inbox. Gmail 2.0 also retains features introduced in earlier builds, including the support of multiple photo attachments and the ability to incorporate custom scribbles in emails.
Both Gmail -- email from Google 2.0 and YouTube for iOS 1.1.0 are available now as a free download for compatible iPhones, iPads and iPod touches running iOS 5.0 or later.