Gmail for iOS gets a major update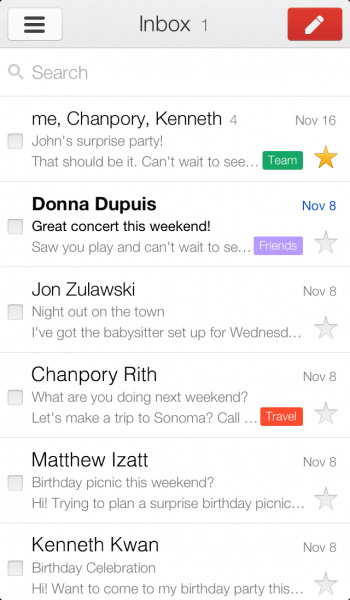 Although there was an odd blip where Google's new Gmail app appeared in the App Store, and then vanished mysteriously (a "rollout issue" according to Google), it's back again and is available to actually download this time. And the good news is: it's worth grabbing.
As a Gmail user, and an owner of an iPad and a few iPod touches, I've never really rated the old, official app, preferring to just to stick with the mobile web version. After ten minutes use I can say that while the update is not perfect, it is a huge step in the right direction and a massive improvement over its predecessor.
Version 2.0 is a major revision, and as well as a brand new, much cleaner look, the app introduces some welcome new features, including (finally) support for multiple accounts. Adding additional accounts (up to five) is just a case of opening the sidebar, tapping the down arrow and then tapping Add Account. Each mail account has its own icon and notification flag for unread messages.
There's an infinite scrolling inbox, and searching through your messages is much quicker as the app now offers autocomplete predictions as you type. You can respond to Google Calendar invites directly from within the app too, and also attach multiple photos to messages, or draw scribbles.
The new app is much faster than the old one, which is good news as the previous version crawled at times -- especially when opening. Transitions are smooth and fluid. It finally feels like an iOS app, rather than a slow web one.
Google also introduced an update to its Android Gmail app yesterday, bringing several additional features to devices running Android 4.0 (Ice Cream Sandwich) and up, including larger photo previews, an auto fit-to-screen message view and message zooming, as well as the ability to archive or delete messages by swiping.
If you've tried either of the new apps, let me know what you think of them in the comments.