Google Now powers up with new features: dictate G+ posts, song ID, boarding passes, more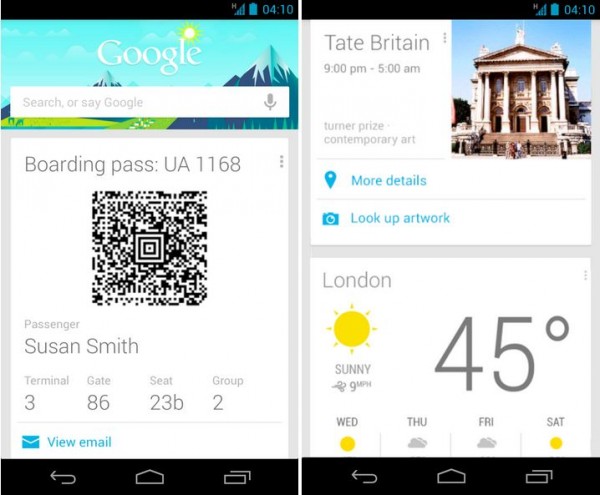 Google first introduced its Siri-like voice search Google Now in Android 4.1 (Jelly Bean). Functionality was rather limited at first, but the search giant eventually added new "cards" (data feeds on user-selected topics) and even Gmail integration. With the latest iteration released today, users can do a lot more with Google Now, including dictate Google+ posts and show United Airlines boarding passes.
Users can power up Google Now, tap on the microphone icon, say "Post to Google Plus" and then simply add their message. Automatic posting is not enabled, so users can edit and select the circles which will see the message. Another new feature is the ability to scan barcodes, which is triggered by the fairly intuitive command "Scan a barcode". Using the camera, Google Now allows users to take a picture of the item in order to display relevant product information.
Even though Google claims that users can find the tune that is playing nearby, the "What's this song?" command doesn't work for me in Romania. This may have something to do with the regional availability of the Sound Search widget which delivers the same functionality. Your experience may vary.
Apart from the new voice actions, the latest Google Now also delivers more cards. Users can view birthdays (including Google+ ones if the app is used), nearby events, suggestions that aid with research, weather for new travel locations as well as a monthly summary with biking and walking activity.
However it may exaggerate when it comes to the "monthly summary". The last time I received the card, I noticed that the app placed me on a bike for a couple of miles. I didn't use a bike at all that month. I don't even own one, so take it with a grain of salt, and also consider that the results are based on your known home and work locations.
Google Now will also display boarding passes, but only for the United Airlines passes that were received on Gmail. Google says that more airline carriers will be added, making the feature more useful for a greater number of travelers.
Another new feature is camera search, which can be used to display relevant information after taking a picture with the built-in shooter. In low-light conditions, camera search as well as the other functionality that utilizes the camera can take advantage of the flash, which is rather nifty.
Google Now is available (through the Google Search app) to download from Google Play.