YouTube takes to the skies, brings its channels to Virgin America flights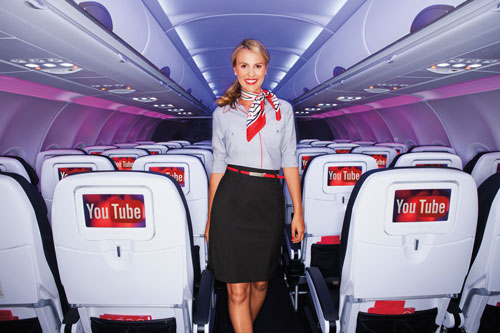 Google has spent millions of dollars funding channels offering high quality content in a bid to compete with television, and more importantly, offer brand-safe shows for major companies to attach their adverts to. Some of the channels have been wildly successful, while others -- it's fair to say -- haven't reached anywhere near their full potential.
Still, YouTube remains committed to funding high-quality programming and in the next fortnight or so will start showing content from five of its flagship channels on Virgin America flights across the U.S. and Mexico.
The five YouTube channels selected to appear on personal seatback screens are Warner Brothers' H+ The Digital Series, WIGS' Blue (starring Julia Stiles), Geek & Sundry's Written By a Kid, Crash Course and Barely Political's The Key of Awesome.
While Written By a Kid, Crash Course and The Key of Awesome can all be dipped into, H+ and Blue are like regular TV shows, with each episode needing to be watched in order. H+ The Digital Series is made up of short time-jumping episodes, and is proving confusing to long time viewers, so heaven knows what Virgin America passengers tuning in for the first time will make of it.
New series and shows will be added every two months.