Did I REALLY say that? Twitter will soon let you download every embarrassing tweet you ever sent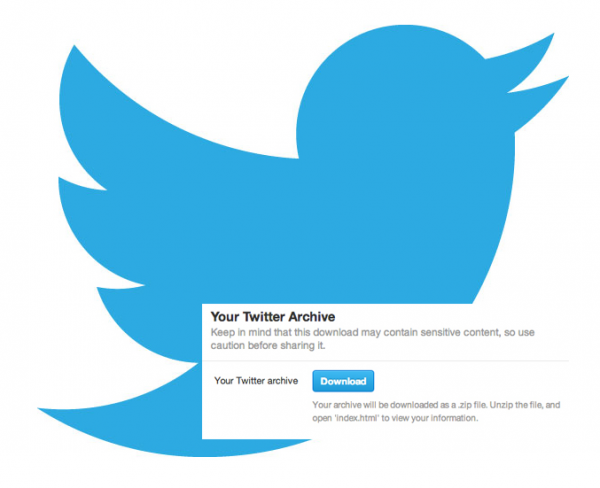 The micro-blogging site appears to be making good on its promise to allow users to download all of their tweets -- from day one -- in a single archive. Although there's been no official announcement yet, there have been numerous sightings of the feature which is reportedly being rolled out to a very small percentage of users.
To check if you have the option, go to Settings and look for a 'Your Twitter archive' section at the bottom of the page. If it's there, clicking the 'Request your archive' button will set the wheels in motion, and you'll be emailed a link when your zip is ready to download. Extract the HTML file to view your tweets in calendar format, with the years on the right and the tweets on the left.
Speaking at the Gerald R. Ford School of Public Policy last month, Twitter's CEO Dick Costolo confirmed plans to give users access to their entire catalogue of past tweets, saying: "By the end of the year you'll be able to download the archive history of your entire tweets; you know, your entire tweet archive. Yes. It's a commonly requested feature. Now, I caveat this with: the engineers who are actually doing the work don't necessarily agree that they'll be done by the end of the year, but we'll just keep having that argument and we'll see where we end up year end."
So why would you want to be able to download your entire archive? Well, if you're a heavy Twitter user it can be useful to go back in time and view everything that mattered to you since you started tweeting. The archive will help you see how your usage has changed over time (I was a very heavy Twitter user in the first year or so but then backed off when I realized just how much time I was spending tweeting about anything and everything).
It'll also provide an interesting way of seeing how you've developed as a person (prepare to cringe at those early tweets) and let you quickly find past comments, should you need to reference them for any reason -- to win an argument for example. You can use it to find out what you said at the time of monumental world events too – like the deaths of Michael Jackson, Whitney Houston, and Osama Bin Laden.
Personally I'm pretty excited about it, even though I don't use the site anywhere near as much now as I once did.
Will you be downloading your tweets when the option becomes available? And have any of you actually seen the feature yet? Let me know in the comments below.