Raspberry Pi launches its own app store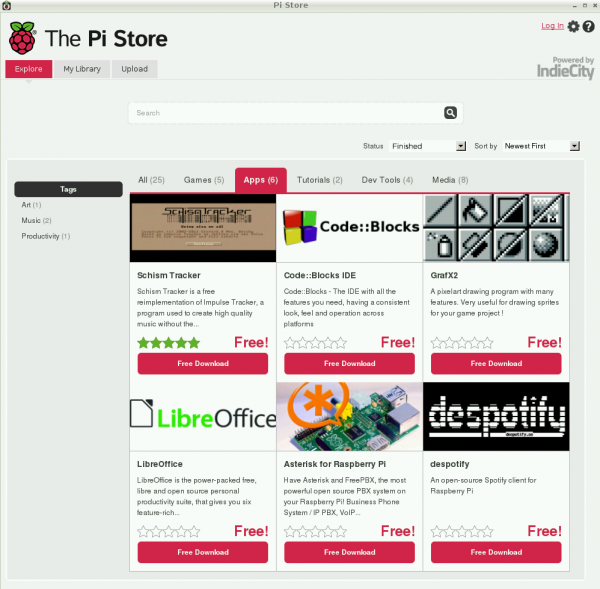 The maker of the popular credit card-sized ARM GNU/Linux computer has launched an online store to enable developers to share their games, applications, and tutorials with other Raspberry Pi users. The device was originally conceived as a way of encouraging youngsters to get into programming, and the store will provide a place for them, and older developers, to share their creations and maybe make a little money at the same time.
At launch the store has 23 free titles, and a paid game (Storm in a Teacup which is priced at £1.99/$3.22). The free content includes utilities such as LibreOffice and Despotify (an open source Spotify client) and classic games including Freeciv and OpenTTD. There's also an exclusive 3D multiplayer space combat game called Iridium Rising. Winners of the Raspberry Pi Summer Programming Contest are being encouraged to upload their entries to the store, too.
According to the Raspberry Pi Foundation, the store "runs as an X application under Raspbian, and allows users to download content, and to upload their own content for moderation and release". Content can be given away or charged for, and the store offers a tip jar feature, so even free applications could earn some money for more popular developers.
The key to the store's success will be down to how well the community gets behind it and in addition to downloading and submitting projects, users will be able to rate and review entries. "The Pi Store has a recommendation engine which is tailored to you and your preferences, so the more you review, the better the recommendations we'll be able to offer you (and other users) will be. If you rate and review constructively, it means the really great content that gets submitted will percolate up to the top, where everyone can see it," a blog post on the Raspberry Pi site explains.
Although the store was available to access earlier it's currently down (presumably due to too much traffic from excited Raspberry Pi-ers). Hopefully it will resurface later today.