Steam for Linux beta goes public for Ubuntu users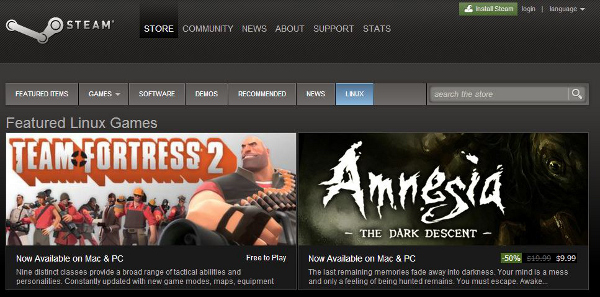 Valve Corporation's popular multiplayer gaming ecosystem Steam has officially hit public beta on Linux, specifically for all users of Ubuntu 12.04.
In November, Valve's Linux team launched Steam for Linux in private beta for about a thousand users, and it included support for approximately 25 games. That number now has grown to almost 40, but with the exception of Team Fortress 2, most titles come from indie developers. Steam's most popular titles like Half-Life 2, BioShock, Portal 2, Elder Scrolls V: Skyrim, all of which are now several years old, are still missing on Linux, and will likely remain so.
Major gaming companies like id Software have been known to open source binaries of their games, but provide no official Linux support. After two attempts to break the Linux market commercially (most recently with Quake Live) id Software has no plans to bring its games to Linux.
At QuakeCon this year, id Software founder John Carmack said:
"There just aren't that many people that are interested in paying for a game on the platform, and that just seems to be the reality. Valve will probably pull a bunch more people there. I know absolutely nothing about any Valve plans for console...Steambox stuff on there, I can speculate without violating anything...One thing that speaks to the favor of Linux and potential open source things is that the integrated graphics parts are getting better and better and they really are good enough now. Intel's latest integrated graphics parts are good. The drivers still have issues, they're still certainly not going to blow away somebody's top-of-the-line SLI system, but they are completely competent parts that are delivering pretty good performance..."
Linux might not be the best avenue for profit seekers, but game company THQ showed there's a more socially conscious angle to the Linux gamer.
THQ president Jason Rubin recently said the company "got the Linux message loud and clear" with the successful release of its pay-what-you-want Humble Bundle. In it, users could pay whatever amount they wanted to charity (or to THQ) for a pack of six games. After raising more than $5 million in the project, Rubin said THQ is "evaluating cost/benefit" of Linux development.
Steam for Linux can be downloaded from Valve today.