Can't be in NYC New Year's Eve? There's an app for that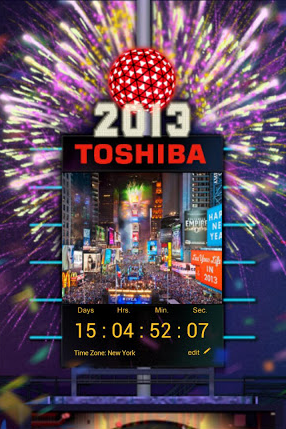 Although New York City manages to pack a huge number of people into Times Square every New Year's Eve to watch the famous ball drop, most of us have to settle for watching it on TV. That is not necessarily a bad thing -- if you have ever talked to someone who has actually been there then you may conclude that you never want to be among the crowd, given the requirements and the hassle that attendees go through.
Thanks to the Times Square Official Ball App you don't have to be in front of a TV at midnight this December 31st, to follow all of the action. You just need to have your Android or iOS smartphone or tablet at hand -- sorry Windows Phone users.

The app is not new this year, but has been updated with support for tablets and larger screen phones. According to the app's website, it not only provides the live video feed of the big event, but also includes extras like the ability to submit your own New Year's Eve photos. The best shots will be displayed on the big screen right in Times Square. It also contains "everything you need to know about the Times Square New Year's Eve Celebration, including the history, news, weather, photos, relevant maps and LIVE Show schedule".
Technology continues to move forward. Now if you are going to be stuck in a TV-free location when everyone is ringing in 2013 you can still be part of the action. Happy New Year!