Fulton Innovation turns your gadgets into battery-life sucking vampires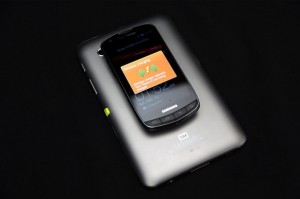 If you carry more than one electrical device around with you -- a smartphone and a tablet, say -- at some point you'll probably find yourself in a position where your tablet has loads of battery life, but your smartphone is about to die.
Fulton Innovation has come up with new technology which will allow users to wirelessly steal battery life from one device to power the other. No need to carry chargers, or hunt around trying to find a charging point.
The innovation, which was shown at this year's CES (naturally), requires the devices to be fitted with the same eCoupled wireless charging technology and works bi-directionally, so you can choose which device will provide the juice for the other. It works like a regular charging mat -- you just place the items on top of each other.
Although the technology is at the prototype stage, Fulton Innovation hopes to get it incorporated into the Qi standard, so it can be implemented across all future compatible devices.