Amazon launches a dedicated MP3 store for iPhone users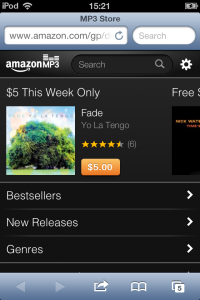 Amazon has created a mobile MP3 store optimized specifically for use on iPhones and iPod touches. Built on HTML5, the new store lets users browse the 22 million strong MP3 catalog, and buy tracks directly.
"Since the launch of the Amazon Cloud Player app for iPhone and iPod touch, a top request from customers has been the ability to buy music from Amazon right from their devices," Steve Boom, Vice President of Amazon Music said. "For the first time ever, iOS users have a way do that -- now they can access Amazon's huge catalog of music, features like personalized recommendations, deals like albums for $5, songs for $0.69, and they can buy their music once and use it everywhere".
To experience the new store, users just have to fire up Safari on their iPhones or iPod touches and go to http://www.amazon.com/mp3. All purchases are automatically saved to customers' Cloud Player libraries, and can be downloaded or streamed directly.