Apple has a really BIG iPhone problem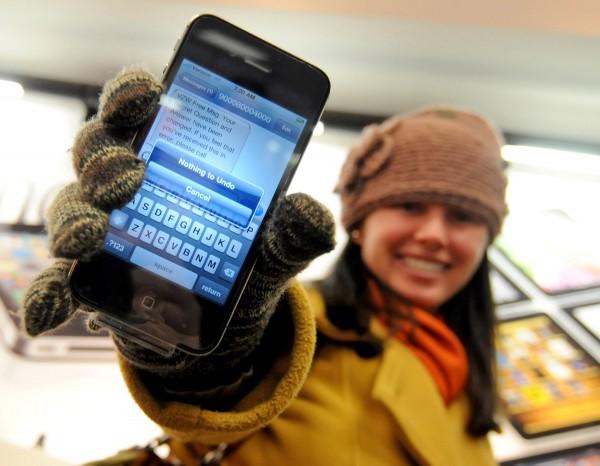 Sales growth comes from the wrong places: iPhone 4 and China.
IDC and Strategy Analytics have released fourth-quarter phone shipments, which at first glance look good for Apple. While competitively behind Samsung, the fruit-logo company continues to gain smartphone market share -- in fourth quarter, respectively, 29 percent and 21.8 percent, according to IDC. But gains largely come from older models, particularly iPhone 4, despite the newest handset shipping in volume during the quarter. This demand says much about iPhone's perceived value, its successor's appeal and future carrier subsidies and the margins Apple gets from them.
Old Yeller
In the short term, iPhone is a monstrous money machine. Revenue rose to $30.67 billion in fourth quarter from $16.25 billion three months earlier. Average selling price perked to $640 from $624 sequentially but, annually, fell from $643. The larger concern is the next couple quarters, following iPhone 5's initial sales glow and increasing demand for the two older models.
"iPhone 4 was actually in constraint for the entire quarter and sales remained strong, and so that's helped sales progress across the quarter", says Apple CEO Tim Cook, speaking on the quarterly conference call this week.
For the call's last question, Deutsche Bank analyst Chris Whitmore asks: "In context of your iPhone business given the strength you are seeing at the low end of your product line the iPhone 4 being stocked out during the quarter...there seems to be a lot of demand at lower price points for the iPhone, why not get more aggressive at lower price bands and move down market in the iPhone business?" For that, Cook deflects and doesn't directly answer.
But Whitmore asks what everyone should about iPhone. Carriers pay Apple much less for iPhone 4 and 4S than 5. Using the full price consumers pay for unlocked devices as guide: $450, $549 and $649, respectively, for base models. iPhone 5 32GB is $749 and 64GB is $849.
As volumes for older models increase, Apple's take per phone goes down -- by nearly $200 comparing iPhone 4 to 5. I'll explain what that means in context of China and its impact on ASPs in a few paragraphs.
Pride and Prejudice
Carriers use subsidies to insulate buyers, offering iPhone 4 for free and 4S for $99. Those prices also determine iPhone's perceived value to consumers, which for many is zero -- they are unwilling to pay anything. That scenario creates several problems for Apple:
Lower average margins per phone sold
Shorter sales bursts for newer iPhone releases
Newer models being perceived as being better enough
Signs that the smartphone market is rapidly saturating
Stiffer competition from low-cost Androids and Windows Phones
Still, any new model sells, and surely iPhone 5 did during fourth quarter. But there is increasing evidence that a sizable number of ongoing new sales go to existing customers, a market that inevitably must saturate faster than the overall smartphone segment.
The China Syndrome
Then there is China, which accounted for 13 percent of all Apple revenues during Q4. Referring to sales following iPhone 5's release, "we saw our highest growth in China and it was into the triple digits, which was higher than the market there", Cook says. More broadly: "It's clear that China it's already our second largest region as you can see from the data that we have given you and it's clear, there is a lot of potential there".
During the quarter, Apple opened four new stores there bringing the total to 11. New stores and new handsets are huge events in China that bring big sales -- the majority of which are iPhones more than any other devices. Based on Cook's comments during Tuesday's conference call, two regions -- China and the United States -- accounted for an overwhelming number of iPhone 5 sales, despite availability in 100 geographies. In the United States, the smartphone market is rapidly saturating. In China, beyond a class of wealthier buyers, there is huge competition from Samsung and increasing pressure from home-grown companies like ZTE.
My contention: U.S. market saturation, increasing demand for free devices and crippling competition in China will clip iPhone margins over the next four quarters. How much, or even how little, depends on what Apple and competitors do. Samsung is the competitor to watch. In fourth quarter 2011, Apple actually shipped more smartphones than Samsung -- 23 million and 22.5 million, respectively. A year later, Samsung shipments rose 76 percent, with 63.7 million smartphones to Apple's 47.8 million, according to IDC.
Raging Bull
Samsung's Q4 earnings results, announced today, reveal much. The South Korean electronics giant reported revenue of about $52.45 billion and $6.55 billion profit. Mobile division revenue was $25.35 billion, and Samsung credits success largely to two devices -- Galaxy S III and Galaxy Note II. Interestingly, Samsung mobile ASPs are rising, even as Apple's dip before presumed fall. Meanwhile, the iPhone's rival makes handsets of different sizes and prices, which analyst data shows winning customers across the globe -- particularly markets once dominated by Nokia, China among them. Samsung credits sales to emerging markets as a bright point for the quarter.
Then this: In its earnings release, Samsung warns that 2012's smartphone growth would be "pacified" this year. "Demand for smartphones in developed countries is expected to decelerate, while their emerging counterparts will see their markets escalate with the introduction of more affordable smartphones and a bigger appetite for tablet PCs throughout the year". You think such dramatic change won't affect iPhone?
Again, we return to changing market conditions taking a bite out of iPhone margins. There Toni Sacconaghi, Sanford Bernstein analyst, asks Cook the right question: "Is holding share in the smartphone market in 2013 a priority for Apple, yes or no and why? And realistically how does Apple hold share given that the market segment and price point that you play in is expected to grow a lot slower and you have pretty dominant share in that high end".
Cook sidesteps the answer by talking about Apple's focus on making the "best products". The market will demand his response.
Photo Credit: Verizon