Android stomps all over iOS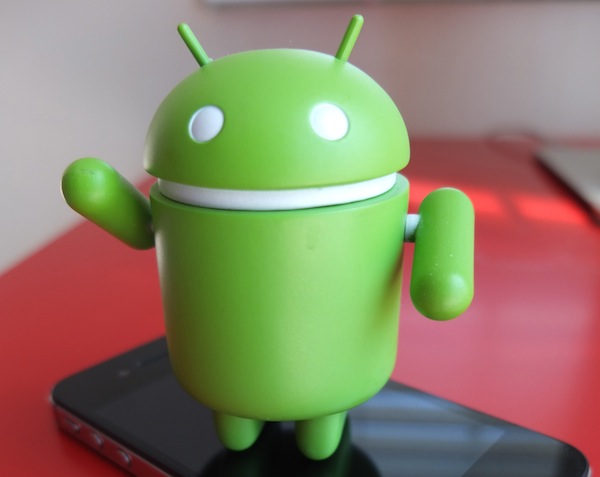 Keeping with an ongoing trend, Android solidified its global smartphone dominance in fourth quarter and for all 2012, according to Strategy Analytics. The Android Army sent iOS idolaters into retreat during Q4, iPhone 5's first full three months of sales. Like I explained in September, "Android wins the smartphone wars".
During fourth quarter, iOS share fell to 22 percent from 23.6 percent a year earlier. Meanwhile, Android rose to 70.1 percent from 51.3 percent. For all 2012, iOS nudged up to 19.4 percent from 19 percent share, while Android reached 68.4 percent, up from 48.7 percent. The differences between the quarter and year, strongly suggest sales surge at the end, for Android, which forebodes poorly for Apple when iOS got big lift from iPhone 5's recent launch.
Duopoly
"Android's challenge for 2013 will be to defend its leadership, not only against Apple, but also against an emerging wave of hungry challengers that includes Microsoft, Blackberry, Firefox and Tizen", Neil Mawston, Strategy Analytics executive director, says.
Four-hundred seventy-nine million Android smartphones shipped in 2012, compared to 135.8 million iPhones, according to Strategy Analytics. Rest of the market: 85.3 million. That puts combined Android/iOS share at 92.1 percent and 87.8 percent for the year.
"The worldwide smartphone industry has effectively become a duopoly as consumer demand has polarized around mass-market Android models and premium Apple designs", Mawston says. Combined dominance leaves little room for competitors, and refutes earlier IDC predictions about three dominant platforms emerging. The more perplexing question: How skewed will be the split among the two?
Cumulative Android shipments (phones and tablets) reached 500 million in September, according to Google. By comparison, iOS, which had long led the green robot, only reached that number three months later, according to Apple. The company shipped 75 million iOS devices during fourth quarter, which works out to about 834,000 per day. Android activations are more than 1.3 million per day.
Back to handsets, IHS iSuppli now predicts that cumulative Android smartphone shipments will reach 1 billion this year, but iOS not until 2015.
Saturation
Android and iOS compete in a rapidly growing, and in some countries quickly saturating, device category. Annual shipments grew to 700.1 million from 490.5 million. But Android and iOS success rely heavily on two companies -- Apple, obviously, and Samsung. For 2012, Samsung shipped 213 million smartphones (mostly Android) and Apple 135.8 million (all iOS). Apple's problem is the Other category (316.3 million), largely dominated by manufacturers shipping Androids.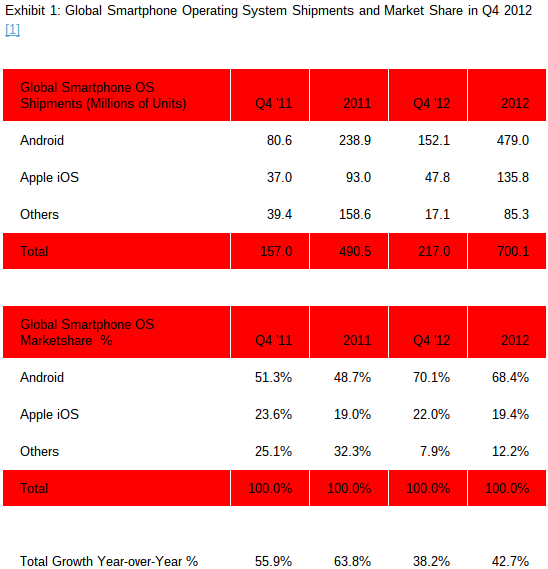 "Samsung and Apple together accounted for half of all smartphones shipped worldwide in 2012", Linda Sui, Strategy Analytics analyst, says. "Large marketing budgets, extensive distribution channels and attractive product portfolios have enabled Samsung and Apple to tighten their grip on the smartphone industry".
Respective share: 30.4 percent and 19 percent, up from 19.9 percent and 19 percent, respectively. Still, the Other bucket slight trails (45.2 percent) Apple and Samsung combined (49.8 percent).
Still, from another perspective, iPhone had a great quarter, with 47.8 million units shipped, up from 37 million year over year and 26.9 million quarter on quarter. iPhone revenue rose to $30.67 billion in Q4 from $16.25 billion three months earlier. In fourth quarter, iPhone accounted for 56.3 percent of all Apple revenue and 52.7 percent a year earlier.
But success comes with risks. As Android share continues to rise, iOS recedes -- and that in a device category destined to rapidly saturate. Market share Android takes today, it is more likely to keep tomorrow, if other platform categories, PC operating systems among them, are comparable.
The question: Is Apple willing to do anything to gain share against Android? During last week's Apple's earnings call, Toni Sacconaghi, Sanford Bernstein analyst, asked: "Is holding share in the smartphone market in 2013 a priority for Apple, yes or no and why? And realistically how does Apple hold share given that the market segment and price point that you play in is expected to grow a lot slower and you have pretty dominant share in that high end".
Apple CEO Tim Cook deflected the answer. But the market will require one. Lower price isn't the answer, as iPhone 4 is free to buyers, with two-year carrier contract, and Apple couldn't make enough to meet demand during fourth quarter. Too bad iOS licensing is sacrilege in Apple's sacred halls. Mr. Cook, perhaps it's time for some new religion.
Photo Credit: Joe Wilcox