Nokia unveils Music+ premium service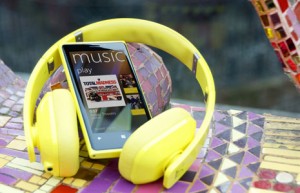 In a move that aims to consolidate the company's branded app selection on Lumia Windows Phones, Nokia has unveiled a new, subscription-based premium service dubbed Nokia Music+, that builds atop of the established Nokia Music platform. A "+" sign can make quite the difference.
Music+ is not designed to replace currently available free services such as Mix Radio, but rather to offer Lumia owners the paid option for "unlimited music discovery". The Finnish manufacturer says that Music+ is aimed at "people who care enough about music to pay something for more quality and choice" and, depending on the user's location, will run for around EUR3.99 or $3.99 per month. But what are the advantages?
Music+ allows users to take advantage of unlimited skips, perform unlimited downloads from the maximum four Mixes available with the free service, play music in higher quality with downloads at eight times the existing quality, and view lyrics. Music+ also provides access to the service straight from a web-app, without having to use a Lumia device.
Nokia has yet to provide an exact release date, only stating that Music+ will be available "in the next few weeks". There is also no word on whether the service will come to other Windows Phone devices.