Samsung rolls out a limited edition Garnet Red version of the Galaxy Tab 2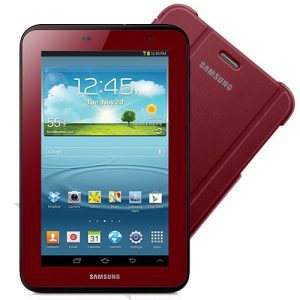 Red seems to be the in color for mobile devices at the moment. First Verizon gave the world a red edition of Nokia's mid-range Lumia 822 smartphone, and now Samsung has introduced a Garnet Red version of its popular Galaxy Tab 2 slate. This isn't the first Samsung device to come in the bloody hue -- AT&T offered a Garnet Red edition of the Galaxy S III last summer.
Currently only available for the US market, the striking tablet comes with a matching case and Android 4.1 Jelly Bean onboard, in place of Ice Cream Sandwich. All the other specs remain the same, such as the 7 inch 1024 by 600 screen, 1GHz dual-core processor, 1GB RAM, and 8GB of internal storage.
"This new eye-catching version of the Galaxy Tab 2 offers endless entertainment in the palm of your hand, while the stylish Garnet Red look will set you apart from the crowd," Samsung senior vice president Michael Abary said. "The Garnet Red version of the Galaxy S III has been incredibly well-received, so we are happy to make the same brilliant color available for our Galaxy Tab 2 as well".
The tablet is available from the likes of Amazon, Walmart, Office Depot, Fry's Electronics and Toys R Us, and priced at around $220. If you like the look of it, you'll want to act quickly as the Garnet Red edition will only be available for a short time.