Verizon rolls out a flashy red Nokia Lumia 822 for lovers. And people who just like red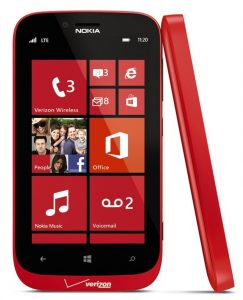 Valentine's Day is coming and since nothing says "I love you" more than a Windows Phone, Verizon has decided to mark the occasion by debuting a red edition of Nokia's mid-range Lumia 822 smartphone. The choice of color will certainly help the handset stand out, seeing as the 822 is otherwise only available in sober shades -- black, white, and grey.
The small red is available to buy from Big Red now, either online, or from a Verizon Wireless retail store, and can be picked up for free on a new two-year contract.

The Windows Phone 8 model features 4G LTE connectivity, a 4.3-inch display with an 800 by 480 resolution, and a dual-core 1.5GHz Qualcomm Snapdragon S4 processor with 1GB of RAM and 16GB of internal storage. It also has an 8MP back-facing camera (capable of 1080p video recording at 30 frames per second) and a 1.2MP front-facing camera.
In other related Verizon/Windows Phone 8 news, the Samsung ATIV Odyssey is also now available to buy. The 4G LTE device runs $49.99 on a new two-year contact (after a $50 mail-in rebate) and boasts a 4-inch 800 by 480 Super AMOLED display, 1.5GHz dual-core Qualcomm Snapdragon S4 processor, with a 5MP back-facing camera (capable of 1080p video recording) and a 1.2MP front-facing shooter.