The rumors were true: Apple debuts a 128GB fourth gen iPad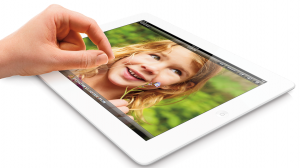 Apple attracts rumors like no other tech company. In the past week alone we've heard about what to expect from the iPad 5, suggestions that Apple is working on a budget iPhone that may or may not feature plenty of plastic in its design, and there's even been talk of a larger capacity iPad 4.
It turns out this last rumor was right on the money, as Apple has just announced a 128GB version of the fourth generation iPad with Retina display.
The larger capacity iPad, which comes in both Wi-Fi and Wi-Fi + Cellular versions, and in black and white, is designed purely to bring in more money for Apple and help shore up the share price. Or as Philip Schiller, Apple's senior vice president of Worldwide Marketing, phrases it:
With more than 120 million iPads sold, it's clear that customers around the world love their iPads, and everyday they are finding more great reasons to work, learn and play on their iPads rather than their old PCs. With twice the storage capacity and an unparalleled selection of over 300,000 native iPad apps, enterprises, educators and artists have even more reasons to use iPad for all their business and personal needs.
The new 128GB versions will be available from Tuesday, February 5 for a suggested retail price of $799 (Wi-Fi) and $929 (Wi-Fi + Cellular model).