Office 2013 and 365 make inauspicious Windows Store debuts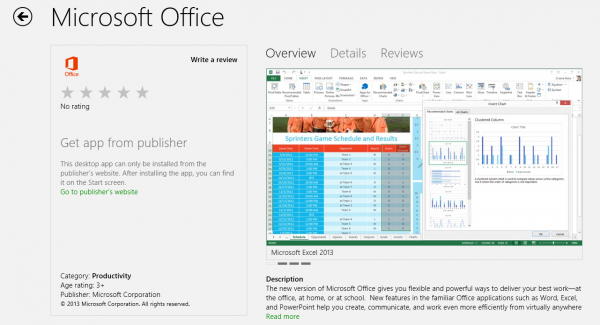 In case you have not yet had your fill of Microsoft Office news then here is one more tidbit for you. The productivity suite, which launched yesterday, is now available in the Windows Store, which is really the Windows 8 Store, since it is not available on any other platform. Before you get too excited, let me temper your enthusiasm.
Yes, we already knew there was not going to be a "Modern UI" version of the latest Office -- known collectively, and confusingly, as Office 2013/Office 365/Office 15. Still, the debut in the Windows Store strikes one as an especially lame attempt. You see, FINDING the app in the store, does not mean you can GET it in the store.
Once you actually locate the app (not any easy process), you are rewarded with a link that auto-switches you to the Desktop and opens a browser tab to the Office purchase page. Seriously. These days it is all about ease of use, and this is NOT it. Clicking a link and expecting to get an app, only to be suddenly whisked away to another location on your computer is not my idea of user-friendly. Microsoft did not think this one through, and the price is a bad experience for customers.
Well, I suppose the good news is that the suite is listed in the Store. However, the company could not have made the process of getting it any crazier if it tried. Yesterday, all of this looked promising. I thought that Microsoft had done Office right. But I was too quick to judge, because it was only a matter of time before it would flub something.