Backup apps and data on non-rooted Android devices with Carbon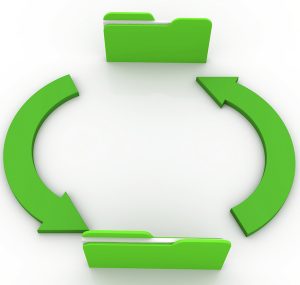 Little more than two weeks after the beta version debuted, the new Carbon backup app has made its way onto the Play Store. The biggest change comes for Android users with non-rooted devices as they can now also perform app and data backups, a feat previously exclusive to those running the little green droid with elevated permissions.
Carbon is the work of ClockworkMod and ROM Manager developer Koushik Dutta who, with the help of 12,000 beta testers, has managed to squash out most of the bugs from previous versions of the app. Dutta, however, warns that due to the way Motorola handles the adb backup functionality (also known as the built-in backup feature in Android) the Google subsidiary's smartphones are prevented from installing Carbon.
Users who have elevated privileges enabled on their Android devices only have to install Carbon from the Play Store. For those sporting non-rooted devices the process requires a few extra steps in order to backup (and restore) apps and data, although it's a fairly straightforward process.
They will need to install Carbon Desktop (available for Windows, MacOS and Linux), the Windows drivers for the device if required, connect the smartphone or tablet to the computer and select "PTP" mode for the USB connection. The final step is enabling "USB debugging" from "Developer options".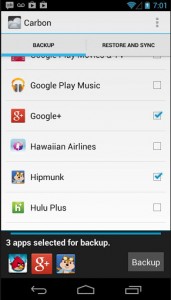 So what about Carbon's options? Upon opening the backup tool, users can select the apps by going through the list and ticking individual items. They can also add them into groups for easier handling and choose whether to  include the app within backups (by default only the data is backed up). Carbon can also be used to transfer apps with data between devices and restore items from the USB storage.
Carbon currently provides five options for managing backups and restoring files -- USB Storage, Schedule Backup, Google Drive, Dropbox and Box. However, only the first one can be used for both actions with the free version of the app. The remaining four can only be used to backup files, with the restore option exclusive to Carbon Premium.
There is also a "PC Download" feature included for handling apps. Users have to power it up, at which point a server will be enabled on the device. The listed IP address has to be used within a browser in order to connect to the mobile and backup and restore files to and from the PC.
Carbon is available to download from Google Play. The premium version runs for $4.99.