Surface sells out!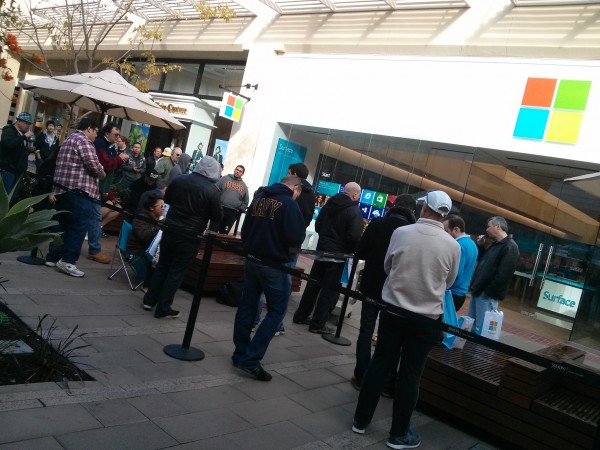 So much for the naysayers panning Microsoft's flagship tablet, or (wrongly) calling it woefully overpriced (but inferior) iPad. The first Surface Pro shipment sold out -- well, just about -- and only within a few hours, too. I called a half-dozen West Coast Microsoft Stores Saturday evening. None have either model. The online shop is sold out of the 128GB slate, but you can still get the 64 gigger. Stock checks at Best Buy and Staples also reveal sell-outs.
"They cleaned us out!" one California MS Store employee tells me Saturday night. Another says his shop stocked out in a couple of hours. No one would say how much inventory was available, but one person says, "Plenty!" Clearly not plenty enough. The question now: How long will those who want Surface Pro wait? One staffer says he expects more tablets Tuesday. No one else has timeframe.
Early February 9, I wondered what to expect after going to the San Diego store, which opened at 10 am local time to a line of about 50. When I snapped the photo above, only about 30 people waited -- and what a stereotypical geek group, too. Many looked like they had just time-traveled from 1978 and coding alongside Microsoft cofounder Bill Gates. After months of catcalls deriding Windows 8 or Surface RT, these buyers paid their revenge -- four businesses down from Apple Store. As did others across Canada and the United States.
Perhaps BetaNews poll "Will you buy Microsoft Surface Pro?" captures a trend. Among the more than 2,000 respondents (so far), only 16 percent definitively say they won't purchase the tablet. A stunning 45 percent say "as soon as available", which is now -- that is if anyone can reasonably call two countries "available".
Microsoft manufactures two Surfaces, its first commercially available personal computers. One, running Windows RT and using ARM architecture, competes with iPad. The other is x86-based Windows 8 Pro and competes with MacBook Air. For the big lowdown, see my first-impressions review and followup asking "Should you buy Surface Pro?"
Surface Pro specs: 10.6-inch ClearType HD Display with 1920 by 1080 resolution; 1.7GHz Intel Core i5 processor and HD 4000 graphics; 4GB RAM; 64GB or 128GB storage; 720p front- and rear-facing cameras (meaning they're for video more than photos); accelerometer; ambient-light sensor; compass; gyroscope; Wi-Fi A/N; Bluetooth 4; USB 3; Windows Pro 8. Dimensions and weight: 10.81 x 6.81 x 0.53 inches and just under 2 pounds. Price: $899 (64GB); $999 (128GB).
Surface is unlike any other slate currently available: tablet, laptop and sketchboard (there's stylus and touch). Whether sales are sustainable or even meaningful is anyone's guess, until (hopefully not if) Microsoft releases sales numbers.
For now I request feedback. If you bought Surface Pro, do tell us all which model and share your reaction. Trust me, lots of people want to know.
Photo Credit: Joe Wilcox