Use DashClock widget to empower the Android 4.2 Jelly Bean lockscreen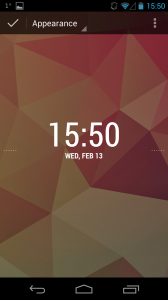 One of the least impressive features added by Google in Android 4.2 is the ability to use lockscreen widgets. By default the second Jelly Bean iteration comes with a limited number of options, none of which is capable of delivering enough glanceable information without swiping left and right to find emails or calendar entries. With DashClock Widget the true potential of lockscreen widgets is unleashed by displaying relevant "status items" right after unlocking the device, all in one go.
DashClock Widget can be used as a Digital clock widget replacement, further building on the stock functionality by introducing support for next scheduled alarm, upcoming calendar appointments, missed calls and unread texts, unread Gmail inbox or Priority inbox count as well as local weather data. Straight off the bat it puts the stock lockscreen widgets to shame by combining sufficient relevant information, all in one place.
In order to take advantage of DashClock Widget users have to unlock the device and navigate to the furthest lockscreen page on the right, tap the "+" sign and select the item named "DashClock" from the provided list. Afterwards a new window will appear, allowing users to enrich the default functionality by adding extensions. The available extensions are the above-mentioned supporting features. Extensions can be removed by swiping items to the left or to the right.
At this point the only extensions that are user-customizable include Weather and Gmail unread count. For the former, users can choose between Imperial and Metric weather units (Fahrenheit and Celsius, respectively). There is one caveat though -- users cannot choose a different weather provider, which may be an inconvenience for users outside of supported locations. The latter, Gmail unread count, can be used to display unread counts for either inbox and supports multiple Gmail accounts as well.
Another caveat comes from the calendar functionality, which is limited to appointments. Users like me that sync multiple calendars for upcomings birthdays or events will find the lack of support for basic calendar entries rather disappointing.
Users can also customize the appearance by choosing between multiple clock and date styles with bold numbers and letters or smaller characters, among others. The design can be altered by selecting "Appearance" in the dropdown menu on the top-left side of DashClock Widget's interface. Compared to the CyanogenMod 10.1 "Chronus" lockscreen widget DashClock Widget ups the ante by providing the above mentioned Gmail, call and text functionality.
DashClock Widget is available to download from Google's Play Store. The app is only compatible with Android 4.2 Jelly Bean.