The Windows Store is like a Bangkok night market -- full of cheap knockoffs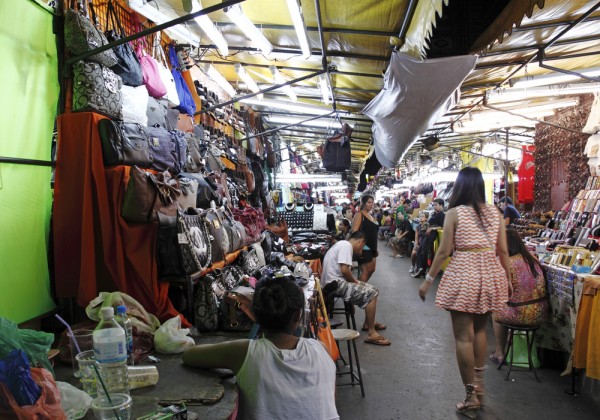 When Windows 8 launched on October 26 2012, the Windows Store had an estimated 9,000 apps available to purchase or download. Today, according to the excellent MetroStore Scanner, that figure has risen to 43,083 worldwide, of which 28,904 are available in the US store, and 26,385 in the UK one.
The biggest problem with the Windows Store is not the overall number of apps -- in four months it's seen reasonable growth although the number of new weekly additions has slowed -- the issue is more with quality. While there's no shortage of third-party apps, many of which are very good, you can't help but notice how many big names are absent.
There's no sign of official apps for Facebook, Twitter, LinkedIn, YouTube, Gmail, Google Maps, Pandora, Spotify, Instagram, Firefox, Groupon, BBC News, or iPlayer… the list goes on and on. The absences aren't immediately apparent because the third-party developers are doing a good job of making their products look official by using the relevant logos and designs, but dig deeper and you'll see the Windows Store is packed with cheap fakes.
There are several excuses why genuine versions of important apps aren't available in the store. For starters not all of them need to be. You can access the services on the web, and -- for Windows RT/Windows 8 Pro tablets and Windows Phone devices -- in mobile-friendly format. Although that argument could be used for iPad and Android platforms, and they both have apps for all the major services.
Email and social accounts can be accessed through the built-in Windows 8 People app of course, but it's far from ideal and lacks the features you'd get in an app dedicated to a particular service.
"It's still early days for the new OS" is another reasonable argument for the lack of official apps, and it's true, although after four months, that excuse is beginning to wear paper thin. After all this is Microsoft Windows we're talking about here. It's hardly a small, unknown platform and we've all known about the Windows Store since September 2011. The biggest problem is a lot of companies, like the BBC, Google and Facebook aren't dragging their heels when it comes to developing apps for Windows 8 and RT (or Windows Phone 8 for that matter) they simply have "no plans" to do so. Instead they are focusing on iOS and Android. Proven ecosystems.
It's often the case that developers will produce an app for iOS first and then follow it up with one for Android (Google's mobile platform is harder to develop for because of OS fragmentation and the sheer variety of screen shapes and sizes to cater for). Occasionally bigger developers will release apps for both platforms simultaneously, and sometimes for Android first. Windows is a third platform, and one which a lot of developers simply see no pressing need to even acknowledge at the moment. Or indeed ever.
While a Firefox app is in development, the majority of the absent apps I listed previously just aren't likely to appear, unless Surface and the other Windows RT and Windows 8 Pro powered tablets really take off.
And let's not forget to mention that some of the official apps which have appeared on Windows 8 -- Dropbox in particular -- are so poor you kind of wish they hadn't been developed in the first place anyway.
So what's the solution to the apps problem? It's simple. Windows 8 needs to perform. Microsoft needs to sell a lot of copies (not just licences), shift a lot of tablets, and prove that the people using its products are also using apps, not just bypassing the Start screen on their way to the desktop. The company has to show the demand is there, it has to convince developers that they need to develop for the OS. It has make Windows 8 a viable app platform.
At the moment I can't see that happening. Surface Pro is reportedly selling well, but it needs to maintain and grow that momentum, because it's tablet and phone sales -- and only tablet and phone sales -- which will drive app downloads and ultimately the demand.
If you're a Windows 8 user what do you think about the lack of official apps? Does it concern you, or have you found enough decent third-party replacements? Leave your comments below.
Photo Credit: Gwoeii/Shutterstock