Better hurry! Nexus 4 is free from T-Mobile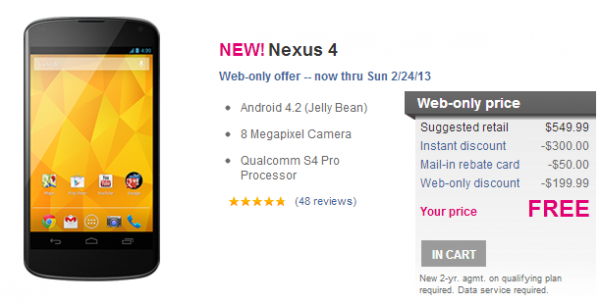 The LG-made, Google-branded Nexus 4 made quite a splash when it debuted, but some of that attention was for the wrong reasons. The phone was almost impossible to grab, even at launch. Since then, supply problems have continued, extending from the T-Mobile online and brick-and-mortar stores to the Google Play Store.
If you think demand issues were bad before you may not have seen anything yet. Today T-Mobile dropped the price on the Android 4.2 handset all the way to zero.
But, you better hurry because the deal is only good through February 24th and it is available only through the T-Mobile website or by calling the mobile carrier at 1-877-387-4324.
By now you likely already know what your are getting with this handset, but I will give a brief overview in case you were not interested until the word "free" caught your attention.
The phone comes with a 4.7-inch screen, WiFi and Bluetooth, NFC, HSPA+, wireless charging, Snapdragon S4 processor, 8-megapixel camera and a bunch of other cool features.
Given the recent supply problems, I would recommend acting sooner rather than later if you really want the Nexus 4. Of course, T-Mobile looks to lock you into a two-year contract in exchange for the deal. The alternative is an unlocked version which is currently in-stock from Google Play Store for $299 for 8GB or $349 if you would prefer 16GB of storage.