Sony ships waterproof Xperia Tablet Z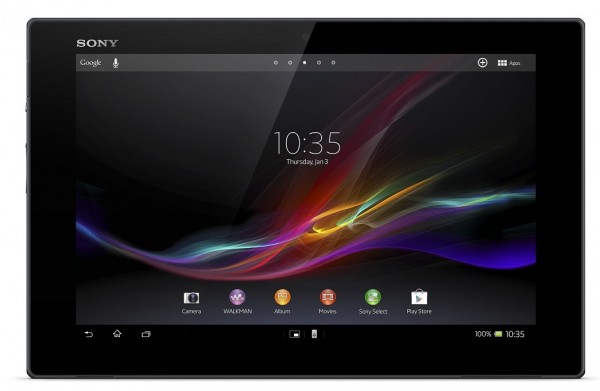 Well, somebody finally announces something that's actually shipping. One of Mobile World Congress' worst traditions is the unveiling of new products not available for months. Today, Sony stepped out from the ranks with the ultrathin, waterproof, Xperia Tablet Z, which goes on sale March 1. That's right, this week! Damn, if only my local Sony store wasn't closed for renovations (until April).
The 10.1-inch tablet stands apart from many of this week's MWC 2013 announcements. Many of the new devices are down-market, offering lower-performance for less money, targeting economy shoppers in mature or emerging locales. By contrast, Xperia Tablet Z packs premium features at premium price.
For starters, the display is high resolution -- 1920 x 1200 -- putting Sony's slate in a small minority that includes Apple iPad, ASUS Pads and Google Nexus for being true HD or better.
But the big sell is waterproofing, which I had hoped would be a big trend at this year's Mobile World Congress. Xperia Tablet Z is dust and water resistant with Ingress Protection Rating of IP55 and IP57. The one number means seal against water sprays and the other submersion up to 1 meter. Whoa, for 30 minutes.
So the next time you're reading on the John and drop your tablet in the can -- or perhaps the backyard Jacuzzi -- you've got water protection. But don't break the screen in the process!
Sony claims that at 6.9 mm, Xperia Tablet Z is thinnest on the market. For comparison, Apple iPad mini is 7.2 mm, Google Galaxy Nexus 10 is 8.9 mm and iPad 4 is 9.4 mm. Sony's slate is light too, just 495 grams, compared to 652 grams for iPad 4 and 603 grams for Nexus 10.
Other features include 1.5GHz quad-core Qualcomm Snapdragon S4 Pro processor; 2GB RAM; 16GB or 32GB of storage; 8-megapixel rear-facing camera and 2MP front shooter; and twin, front-facing speakers. While the device ships with Android 4.1, Sony says buyers will be prompted to upgrade to 4.2.
The electronics giant also pushes connectivity with this model, an attribute appealing to people living the Sony lifestyle by perhaps owning PS3, Bravia TV, wireless speakers or other devices. Consumers connect using "one-touch NFC" for moving content around various devices.
"Xperia Tablet Z sets new standards in entertainment by matching premium specifications and Sony technology with cross-device connectivity and a consistent user-experience", Kaz Tajima, Sony Mobile Communications corporate vice president, says. "Xperia Tablet Z reinforces our intention to be a leading player in the premium Android device market".
As previously mentioned, Sony's slate goes on sale March 1 for $499 (16GB) or $599 (32GB) in black. However, Sony stores -- brick and mortar and online -- will exclusively carry the 32GB Tablet Z in white, too. Pricing matches iPad but is more than Nexus 10, which is $399 and $499 in same capacities with higher-screen resolution but doesn't offer seamless integration with Sony products or cloud services.